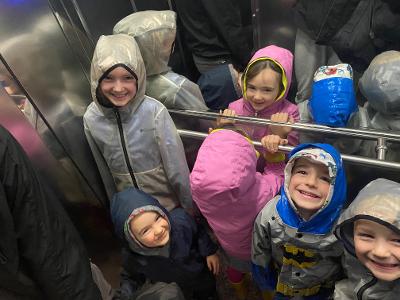 February-April 2022 Newsletter
"I am convinced that nothing can ever separate us from God's love." Romans 8:31
Featured Image: Our five older grand-children all very happy together for the New Year in the Middle East — Heidi's children (Grace, 8 and Gabriel, 5) on outside in grey — Lisa's three oldest (5-year-old twins Evelyne and Isaiah in pink and blue and 3-year-old Solomon in dark blue)
 From the keyboard of Dr. Ross Jutsum                                                                                                                              rfjutsum@aol.com                                                                                                                                                 
Dear family, friends and ministry partners:
Tammy and I wish you a very happy New Year.  We have some really BIG news to share!  We recently sold our home for the past 22 years here in Southern California and are planning to move out of state.  We don't know where exactly as yet, but, for a couple of months, are renting a place near the Palm Coast area in Florida (on the Atlantic coast about half-way between Daytona Beach and St. Augustine) and we will check out various areas before deciding where to settle.
Down-sizing is something our girls have wanted us to do for some time and we finally did it!  Going through 43 and ½ years of things we have accumulated during our married life, not to mention all of the girls' things and many belongings of Tammy's mother from when she lived with us — it is all rather daunting!  However, we have finished all of the sorting and tossing and deciding what little to keep and are having an estate sale.  Then we are off on our new adventure.
Of course, I do not plan to retire from ministry and we plan on keeping our non-profit 501C3, State of the Heart Ministries, in California, where one of our Directors will still be living.  We will be keeping our P.O. Box 56 in Sierra Madre as the ministry mailing address.  Since the beginning of the pandemic, we have been forced to scale back on ministry travel and that will no doubt still be the case.  However, we plan to use the ministry funds more to support our daughters and their families' ministry efforts and outreach.  And of course, we will continue to serve and share in whatever place God leads us to land!
We plan to continue our quarterly newsletters with family and ministry news, along with our ministry web site.  Wherever doors open in churches, retirement communities and other venues, we plan to walk through them and through music and worship, let our lights shine with the love of God and the good news of salvation through Jesus and the gospel message.
As you can see from the picture on the first page, our daughters and sons-in-law have had a wonderful time together with all seven of our grand-children in the Middle East for the past couple of weeks.  (Almost two-year-old twin boys, Aaron and Noah, were not close by for this photo.)  With our potential re-location to the East Coast, we will be closer to Heidi and her family in Connecticut and also several hours closer to Lisa and her family overseas.  We hope to have the flexibility to visit our kids and grand-kids more often.
In a few months we will be entering the 26th year of "State of the Heart Ministries."  It has been quite an incredible journey thus far and we are trusting our loving and wonderful Lord to guide us in this transition and show us the ways He wants us to continue to be His hands and feet, His lips and eyes as we go forward.
As always, we so appreciate your prayers for our family and our ministry and are so grateful for your financial support also.  We continue to lift up you and yours to our loving God in prayer also.
With gratitude, love and blessings,
Ross and Tammy