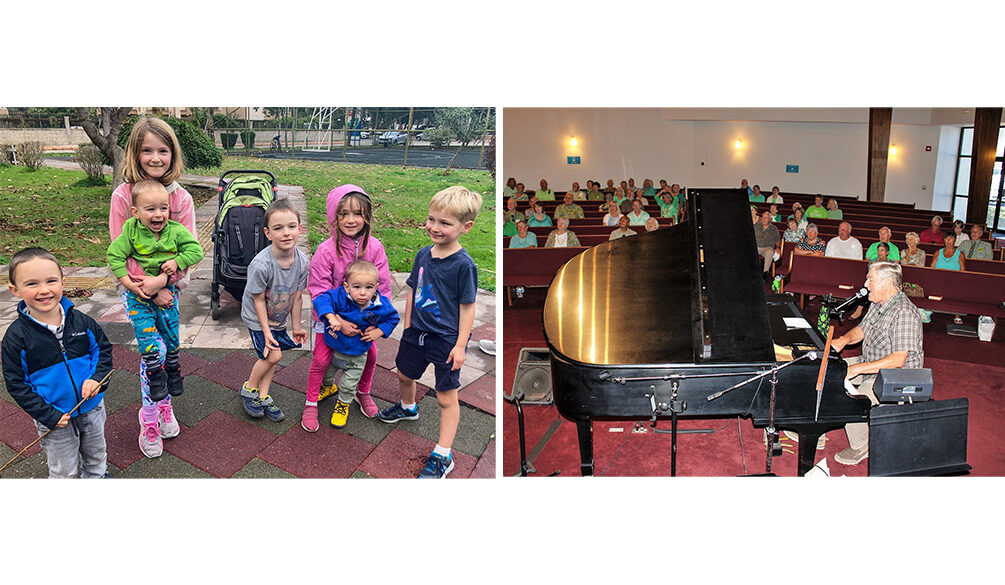 May-July 2022 Newsletter
"I am convinced that nothing can ever separate us from God's love." Romans 8:31
 Thanks to the pandemic, this was my first in-person program in a church since March 17, 2020.  Ironically, the above event took place this past St. Patrick's Day, exactly two years since I gave a "Zoom" program from the chapel of Royal Oaks Assisted Living in Duarte, CA for 200 residents!
 From the keyboard of Dr. Ross Jutsum 
rfjutsum@aol.com                                                                                                                                                
Dear family, friends and ministry partners:
Happy Spring! We are almost settled in our new home, a 7th floor condo in Flagler Beach, Florida on the Atlantic Coast, about half way between St. Augustine and Daytona Beach. It was quite the herculean effort to scale down from our large home in Southern California to this comfy 2-bedroom, 2-bath condo, but we are very happy to have made the move and enjoy our wonderful views of the ocean AND the sunset over the Atlantic IntraCoastal Waterway behind us.
The above-mentioned program took place at Wellsprings Church in Satellite Beach where our long-time friend Steve Schantz serves as the Senior Chaplain. The audience of about 100 really enjoyed the musical offerings which included some Irish favorites, but also a few original compositions selected purposefully in light of the heartbreaking situation in The Ukraine at the moment — "May Your Kingdom Come" and "For the Least of These"…
All seven of our grand-children together in the Middle East over New Year's… Solomon (almost 4,) Grace (almost 9) holding one of our almost 2-year-old grandtwin boys Noah, then almost 6 year-old twins Isaiah and Evelyne (with Evie holding twin brother Aaron) and last but not least Gabriel (almost 6.)
We are SO looking forward to meeting the grand-twin boys in July when Lisa and Jonathan and their family will be visiting the U.S. on an extended leave. In the meantime, as we follow the Lord's lead to serve wherever in the Body He desires (this coming weekend leading worship at a church in Orlando,) our ministry is also supporting Lisa and Jon's wonderful work in the Middle East and we are also contributing to a Canadian pastor friend's ministry bringing needy refugees from Africa and the Middle East.
Your continuing support and your prayers are so very much appreciated. We continue to use our P.O. Box in Sierra Madre, CA. We pray for you and yours regularly and long for the day when there will truly be "no more pain, no more suffering, no more tears, no more death." Indeed, "may Your Kingdom come soon!"
With gratitude, love and blessings,
Ross and Tammy