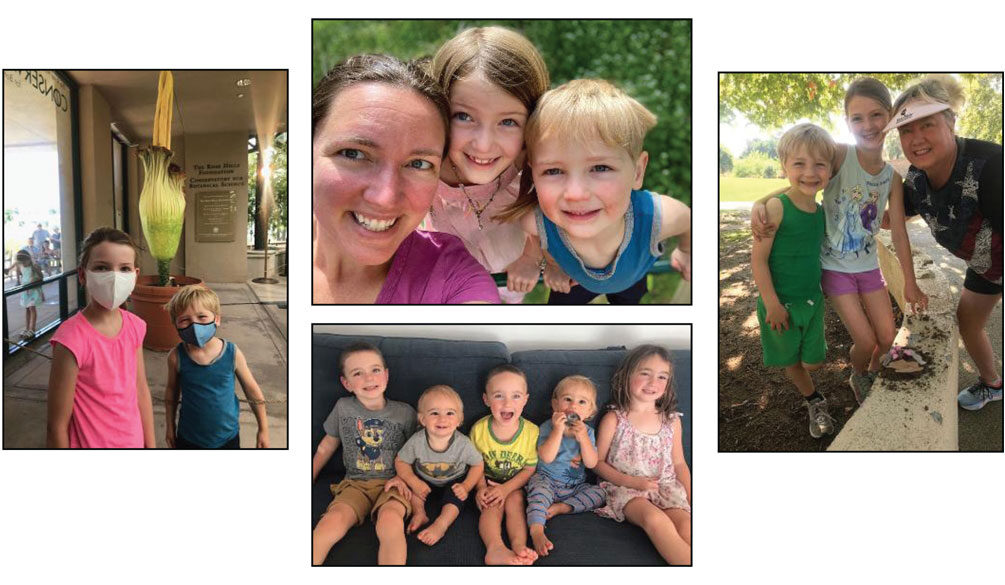 Featured Images: Grace and Gabriel visit the Huntington's famous "corpse" flower; Heidi and children; Grace & Gabriel make a special birthday cake for Grammy Tammy; Blomberg "Five" as Solomon (middle) turns 3
"Do not be anxious about anything, but in every situation, by prayer and petition, with thanksgiving, present your requests to God. And the peace of God, which transcends all understanding, will guard your hearts and your minds in Christ Jesus." Philippians 4:6-7 (NIV)
Dear family, friends and ministry partners:
Thank you all so very much for your prayers for my dear sister Robyn in Australia.  More than two  years after her diagnosis with pancreatic cancer, Robyn continues to amaze doctors, and to inspire all of her family with her positive outlook, certainly due to her strong faith, and the True Hope we all have in Jesus.  Thanks also for the prayers for my back issues – after many therapy sessions and chiropractic visits, Prolozone injections and lots of "core strengthening," my back is doing great.  Now I need to give more attention to the Dupuytren's Contracture beginning to affect my right hand.
Tammy and I were delighted to attend the wedding of a dear friend (a young lady who served as a flower girl for Heidi fifteen years ago!) up in Spokane, Washington.  I was able to help provide music for the celebration and then we were able to return home via Vancouver WA to spend some quality time with Tammy's sister, Linda, who, you might recall, lost her dear husband Richard to cancer two years ago.  Linda is doing well and has her family close by – it was a wonderful reunion.
We had not seen Heidi and Ryan and family (except on FaceTime!) in almost two years and were delighted to welcome them for a visit in early July.  It was wonderful to be able to "spoil" Grace (8) and Gabriel (5) with simple things like learning piano duets with Grandpa Rossy, swimming, trips to the park and splash pad, and Huntington Gardens (where our visit coincided with the one day the famous "corpse" flower was flowering – so named for its pungent odor – it was one occasion we were all "happy" to be wearing masks!)  We were blessed with extra time with the grand-kids as Heidi had to be working remotely for her NGO, Innovations for Poverty Action.  She was busy coordinating a shipment of 150 million masks to help with the Pandemic response in Bangladesh and other Asian countries.  Ryan is working on a new theology book and continues his good work as Managing Director of Yale's Center for Faith and Culture.  Heidi shared some exciting news about an upcoming job transition (more on that next time!)

Aaron and Noah love ice cream; Lisa & Jon – "date night;" Twins Evelyne and Isaiah turn 5
We are truly hoping to be able to see our other five grand-children in the Middle East in October. It will be two years since our last visit and, of course, we haven't even met now 15-month-old grand-twin boys, Aaron and Noah. Heidi was able to visit Lisa and Jon and family for a week in June and we are so grateful that worked out.  Lisa and Jon are continuing their wonderful outreach work over there.  They are hoping to be able to buy a house soon, if it is the Lord's will – the five children really need to have a yard to play in, much as their apartment has served their needs well up until now.  I know they would appreciate your prayers regarding this decision and ways that they might be able to make it come about – it is difficult, if not impossible, for ex-pats to get a loan.  They want to be the most effective tools they can as they serve their neighbors and shine their lights brightly!
Beginning our 25th year of this ministry, we are, as always, so grateful for your continued generous support and much-coveted prayers.  We ask you to join us in seeking God's will as to how we may best serve, given the ongoing difficult situation that continues to grip our country and much of the world.  We are praying for you and yours and trust you are safe and healthy.
With gratitude, love and blessings,
Ross and Tammy