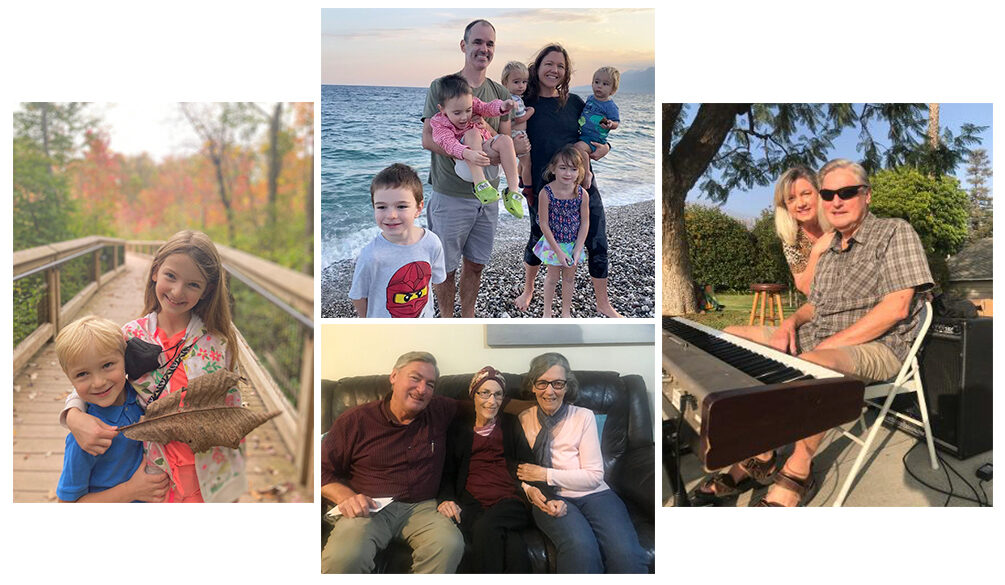 Featured Images:  Grace and Gabriel enjoy New England Autumn colors; the Magnificent Blomberg Seven at the Mediterranean Sea; Ross with sisters Robyn and Claire; Ross and Tammy together at latest driveway concert
"Precious in the sight of the LORD is the death of his faithful servants."  Psalm 116:15 (NIV)
From the keyboard of Dr. Ross Jutsum
rfjutsum@aol.com
Dear family, friends and ministry partners:
Last quarter, I asked for your prayers for my dear sister Robyn in Australia.  Sadly, Robyn passed away a few weeks ago after a valiant battle with pancreatic cancer for more than 2 and ½ years.  Tammy and I had the precious privilege of talking with Robyn a week before her passing and she was ready and even told us of the planned Celebration of Life service a few weeks ahead.  I suggested to Robyn that I would like to compose a special song for that occasion and she said "Oh Ross!  Would you please?"  I was able to complete the lyrics in a day or two and Robyn's amazing husband, Ian, read them aloud to her when she was awake and able to comprehend that it was from her "little brother."  The first verse of "Robbie's Song" goes like this:
Dear sister Robyn you've always been a beacon of love and of light
Giving your life, always filled with grace, His joy always shining so bright
Dear faithful daughter and mother and wife – our sister, aunty and friend
Beloved Grandma, adored by us all – nearing this life journey's end
I have sent a recording of the song to the family down under and it will be played at the service next week – Tammy and I and Heidi and Lisa and families will be able to tune in remotely.  Robyn will be greatly missed but we look forward to that great family reunion one day!  Please keep Ian, and their children Karen, Peter and Tim and their families in your prayers.
Our daughter Heidi has recently transitioned to a new job at Yale University as the Deputy Director of the MacMillan International Center.  It is a wonderful opportunity and Heidi brings to this position her vast experience working with leaders of various countries in Central and South America, Asia and Africa.  Our son-in-law Ryan continues his work as managing director of Yale's Center for Faith and Culture.  This semester he is not teaching his usual undergraduate class, "Life Worth Living," but instead is offering a graduate class on gratitude in the Divinity School.  Grand-daughter Grace is now in the third grade and grand-son Gabriel began Kindergarten.
Daughter Lisa and husband Jonathan continue to thrive in the Middle East with the other five of our grand-children.  5-year- old twins Evelyne and Isaiah, along with 3-year-old Solomon, are enjoying pre-school, and Tammy and I have yet to meet our 20-month-old twin grandsons, Aaron and Noah.  Jonathan's wonderful artwork can now be viewed at his web site, www.jonathanblomberg.com, but not to be shared on social media at this time.
We re-started our driveway concert "series" this weekend and more than 65 friends and neighbors joined us on our cul-de-sac.  At least half of the folks in attendance were joining us for the first time and I played and sang for almost two hours and virtually no one left early!  I fielded many requests from the audience and folks sang along, clapped and even danced a little!  These are very much appreciated during this challenging time and have been a good way for Tammy and me to be salt and light in our own backyard – o.k., front yard!
As always, we so appreciate your prayers for our family and our ministry and are so grateful for your financial support also.  We continue to lift up you and yours to our loving God in prayer also.
With gratitude, love and blessings,
Ross and Tammy