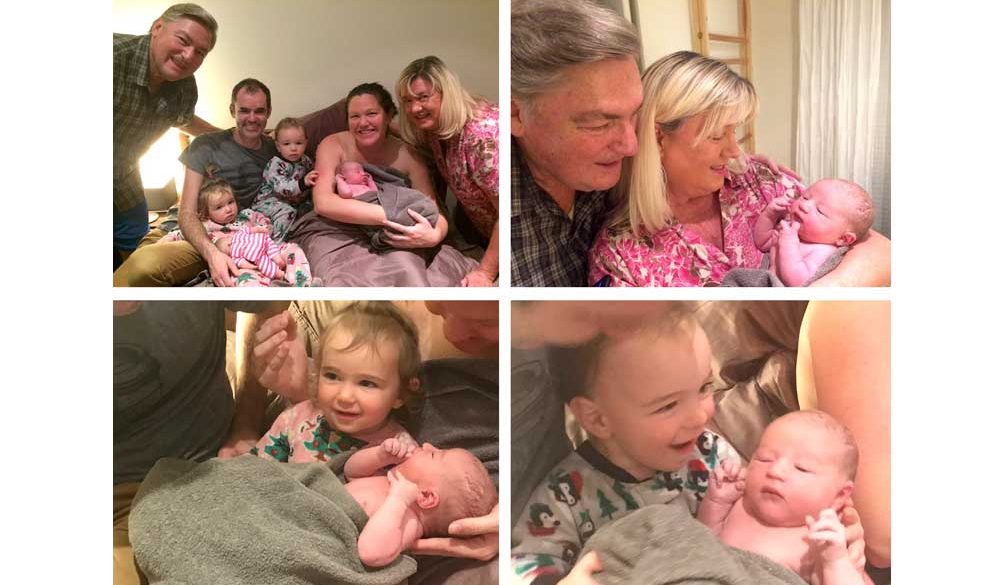 "Children are a gift from the Lord; they are a real blessing..."   Psalm 127:3 
Photos clockwise from top left:
Lisa and Jonathan welcome Solomon Paul; Grandpa and Grammy Tammy delight in our fifth grand-child;
Grand-twins Evelyne and Isaiah are so thrilled less than two hours after "Solo's" grand entrance!                      
Wonderful Family News                                                                                                       
Just six weeks after Lisa and Jonathan and family returned from Central Asia, on May 22nd, they welcomed Solomon Paul, little brother to grand-twins Evelyne and Isaiah.  We are thrilled to have them close by, at least for the next 10 months or so, before the family moves on to another overseas assignment.  It was a delight to have the twins sleep over for 3 nights prior to Solomon's arrival.  Heidi and Ryan, Grace and Gabriel were also able to join us to meet their new nephew and cousin.  Heidi and her wonderful family just returned from 3 weeks in Lima, Peru where Heidi was busy with important work for the Innovations for Poverty Action organization where she is Director of Policy and Communications.  Heidi is currently in Accra, Ghana, working with their government to improve the lives of many!
Ministry Visits May-July 2018
May began with a very busy weekend in East Texas serving in four different churches – return visits were made to the Seventh-Day Baptist Church in Texarkana, the Church of God Big Sandy, New Beginnings Christian Fellowship in Big Sandy, and First Baptist Church in Gilmer TX.  In addition to a Saturday evening Community Concert for Big Sandy, I was also the guest presenter at the Big Sandy Rotary Club before returning home on Monday.  I am so grateful to my hosts Pastor Dan Taylor (and his 7 grand-children on the front row in Texarkana!), Pastor Dave Havir, Pastor Jerome and Helen Ellard, and Pastor Mike Kessler and Minister of Music Boyd Connally, not forgetting my dear friends Steve and Linda Kay Dean for inviting me to Gilmer and reuniting after many years!
As a favor to a dear friend here in Southern California, Nat Read, I provided music for the annual Armed Services Dinner at the Los Angeles Jonathan Club, honoring veterans of all branches of the Armed Services.  Then I was off to Cloudcroft, New Mexico, where my dear friends Bob and Connie Howell hosted me and provided the opportunity to serve at their United Methodist Church for a worship service and community concert.  I also was delighted to provide a concert at the Aristocrat Retirement Community in Alamagordo NM, and we even squeezed in a visit to the White Sands National Monument.  I also provided music for the retirement party of UMC Pastor Judy Shema.
My only overseas summer trip came in July with a visit to the United Kingdom.  A long-time, dear friend and mentor of mine, Duncan McLean, passed away recently at the age of 90 after a valiant bout with cancer.  Duncan was one of the kindest and gentlest men I have ever known, and was so encouraging -– he was the band director at the college I attended in England from 1971-1974 and one of the finest trumpeters ever! Duncan took the time to collaborate with me on various choral and orchestral arrangements and urged me to use my musical gifts to create original compositions.  I provided live music for his memorial service and gave a short tribute to his musical legacy.  From that service in Luton, hosted in nearby St. Albans by my dear, long-time friends Nancy and David Silcox, I traveled to Kingussie, Scotland, where I was delighted to help lead a chapel service at the SEP camp recently relocated there from Loch Lomond.  I was given an enthusiastic welcome by the campers and staff as I shared a musical message of encouragement – apparently, they loved it and I loved seeing them so engaged and energetic in their worship!
Ministry Contact Information                                                                                                      
We are an established 501C3 California non-profit corporation and tax-deductible donations and CD orders can be done online, or to State of the Heart Ministries, P.O. Box 56, Sierra Madre, CA  91025 or call 626- 836-4686
Ross' Ministry Schedule – August-December 2018
| | | | |
| --- | --- | --- | --- |
| Aug 4-5 | Arcadia CA | Oct 13-14 | Family |
| Aug 11-12 | OPEN | Oct 20-21 | OPEN |
| Aug 18-19 | Sierra Madre CA | Oct 27-28 | Milwaukee WI, Rockford IL |
| Aug 25-26 | Methuen/Boston MA | Nov 3-4 | Pasadena CA |
| Sept 1-2 | Family | Nov 9-11 | Ft. Myers FL |
| Sept 6-9 | Johnson KS/Amarillo-Tulia TX | Nov 17-18 | Sierra Madre CA |
| Sept 15-16 | OPEN | Nov 24-25 | Portland OR |
| Sept 22-24 | Toronto/Barrie, Canada | Dec 1-2 | Pasadena CA |
| Sept 29-30 | OPEN | Dec 8-9 | Family |
| Oct 6-7 | Los Angeles CA | Dec 13-16 | Richmond VA |