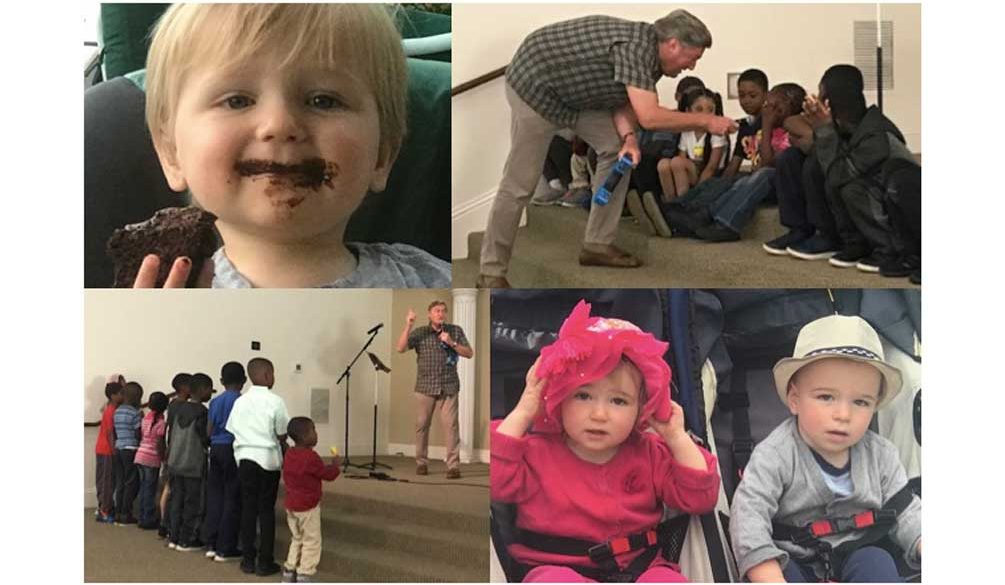 Photos clockwise from top left:
Two-year-old grandson Gabriel enjoys some of his birthday cake; Ross makes new young friends at the Rescue Mission in downtown Orlando, Florida; Ross invites his young percussion section to help make a joyful noise; Grand-twins Evelyne and Isaiah making a fashion statement on our morning walk in Southern California!                      
Ministry Visits January-April 2018
Perhaps one of the quickest and most inspiring international ministry trips took place the last weekend in January.  I was invited to visit the United Kingdom, and in particular churches in the cities of Cardiff and Llanelli, Wales, by my dear friends Pastor Gary and Deborah Glenister. A very warm Welsh welcome was extended by the two  Grace Communion congregations, the Llanelli (hardest word to properly pronounce in the English/Welsh languages!) Salvation Army and at the Soup Station wonderfully sponsored each Sunday evening by the Llanelli house church, enthusiastically being the hands, lips and eyes of Jesus to so many – a small body of believers with a really big heart!
A three-day trip to Boston and Methuen MA in early February enabled me to accomplish quite a bit of progress towards my latest recording projects at the studio of my dear friend and brother, fellow musician and audio engineer par excellence, Jay Hovnanian.  Then it was off to Edmonton, Alberta, Canada!  (brrrrr!!!)  I now know why I usually visit there in the autumn!  In spite of the extreme cold, it was a wonderful weekend of worship with the Edmonton Grace Christian Fellowship, Parkland Church of God 7th Day, a new congregation of Filipino believers, and at Journey Church.  The hospitality of my hosts, dear friends Pastor Bob and Shelly Millman, Pastor John Camero, Pastor Wayne Balboa and Pastor Roger Stewart was greatly appreciated.
In March, I made my almost yearly visit to the Bellflower CA Grace Communion congregation pastored by Larry Dietrich, followed by a four-day trip to Central Florida, where I made return visits to the Grace Communion congregations in Melbourne and Orlando, Compass Community Church in Apopka, and the Americana Retirement Community in Rockledge.  I was also privileged to lead the Sunday morning chapel service at the Rescue Mission in Orlando (see pictures above) where I worshipped with more than 150 men, women and children.
April took me to Mocksville, North Carolina where I gave special music at a combined worship service and an afternoon Concert of Praise at the Clement Grove Church of God 7th Day(Pastor Ray Robinson,) joined by folks from the COG7 congregation in Newton NC and their pastor, dear and long-time friends Whaid and Marjolene Rose.  Then on Sunday morning, I served as guest worship leader and speaker at the celebration of the Resurrection for the Grace Communion congregation in Charlotte.  Pastor Tracy and Rita Winborne were my wonderful hosts on this visit.  The following weekend I made a return visit to the West Valley CA Church of God pastored now by Wayne and Patty Mitchell,  dear friends who have recently moved down to Southern California from the Northwest.
Announcing a Brand New Worship Resource                                                                    
We are delighted to offer a brand new worship resource entitled "Worship for Fellowship Groups."  It contained high-definition video renditions of 12 Christmas Worship Songs (carols), as well as 14 "Songs for Kids and Grand-Kids (and the Young at Heart)" and 14 songs for Worship and Praise. In addition, there are accompaniment tracks included for 28 songs. To order your copy on either USB drive (to download directly into your laptop or PC) or via the File-Sharing Dropbox, please call or e-mail and we'll arrange to get this straight to you.
Ministry Contact Information
Our web site is www.stateoftheheart.org  An established 501C3 California non-profit corporation, tax-deductible donations and orders for worship CDs can be done online, or to State of the Heart Ministries, P.O. Box 56, Sierra Madre, CA  91025 or call 626- 836-4686
Ross' Ministry Schedule – April-July 2018
| | | | |
| --- | --- | --- | --- |
| Mar 17-18 | Bellflower/Sierra Madre CA | May 26-27 | Family |
| Mar 23-25 | Melbourne/Orlando FL | June 2-4 | Alamogordo/Cloudcroft NM |
| Mar 31/Apr 1 | Mocksville/Charlotte NC | June 7-10 | Williamstown MA |
| Apr 6-8 | Welcome Home Lisa/family! | June 16-17 | OPEN |
| Apr 14-15 | Family | June 23-24 | Pasadena CA |
| Apr 21-22 | Northridge CA | June 30July 1 | OPEN |
| Apr 28-29 | Sierra Madre CA | July 7-8 | San Antonio TX {tent.} |
| May 5-7 | Texark/BigSandy/Gilmer TX | July 14-15 | OPEN |
| May 12-14 | Mothers Day/40th WedAnn | July 21-22 | Sierra Madre CA |
| May 19-20 | Los Angeles CA | July 27-28 | OPEN |