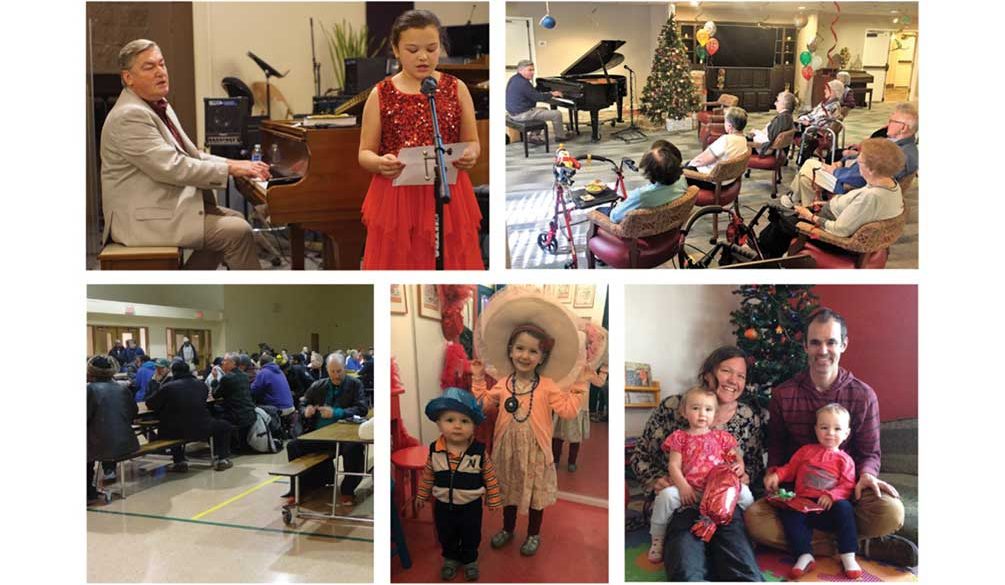 Photos clockwise from top left:
                      Ross accompanies surprise guest in San Jose; at Chateau Cupertino Assisted Living; Lisa and Jon and twins in Central Asia;
Grace and Gabriel trying on hats; at Rockford Rescue Mission chapel service
February-April 2018 Newsletter
 21st year of ministry (1997-2018)
"And I will give you a new heart, and I will put a new spirit in you.  I will take out your stony, stubborn heart and give you a tender, responsive heart."  Ezekiel 36:26  
Ministry Visits November-December 2017
November began with a trip to Sacramento CA where I was honored to provide music for a Retirement Dinner and Video Tribute to my dear friends, Pastor Mike and Sandy Swagerty.  I was also able to include serving as a guest worship leader/speaker at two Grace Communion congregations – one in Fairfield CA, hosted by Pastor Steve Smith, and the other in Reno, NV, pastored by Ed Kofol.  It was wonderful to catch up with dear friends Rae Neller, and Marcia and Dan Fricke, as well as so many from all over California gathered to "roast" the Swagertys!
Then came a visit to Illinois where I was delighted to make a return visit to the Christian Fellowship Church in Chicago, hosted by my long-time friend, Pastor Richard Frankel.  It was Veteran's Day and I invited any veterans in the congregation to stand and be recognized.  After playing a little theme song for each one of the Navy, Army, Air Force and Marine representatives, there was still one man standing!  When I asked what branch he served in, he proudly declared "Coast Guard" and knowing that I wasn't too familiar with that theme song, boldly pulled out a cornet from the pew in front of him and regaled us with a brilliant solo rendition!  Later that afternoon, I was privileged to give a Veteran's Day concert at a Methodist nursing home in Rockford, IL, called "Wesley Willows."  What a wonderful and appreciative audience they were.  The next day, it was a real blessing to share with Abundant Grace Church for the second time, and to participate in their annual community outreach at the Rockford Rescue Mission, where I led an evening Chapel service for more than 200 men, women and children.  It was truly humbling to be able to speak of God's love to so many who were going through so much turmoil in their lives and seeking recovery and healing.  I am so grateful to Pastors Luci and Carl Cramer, and hosts Kathleen and Mike Hembree, and look forward to another visit this fall!
The weekend before Thanksgiving took me back to Amarillo TX where I guested for the second time at Pleasant Valley Baptist Church.  I was able to include a visit to the Ronald McDonald House and give concerts at The Continental and Park Tower retirement communities.  My hosts were Pastor Chance Perkins and family and they, along with the wonderful folks at Pleasant Valley, made me feel right at home!
I have made an annual visit to South Bay Christian Church in San Jose CA for the last 15 years.  However, it was usually in November, before Thanksgiving.  This year, we were joined by folks from One in Christ Community Church in San Leandro CA, and I led a Christmas worship service and also a community outreach Christmas Singalong.  It was well-attended by members of the host Christian Reform Church and also quite a number from the surrounding neighborhood.  The next day I gave a concert at Chateau Cupertino, an assisted living facility where Pastor Mel Dahlgren gives a weekly Bible Study.  I am so grateful for Mel and Barbara, Pastor Jun and Yolanda Caranto, and my wonderful host and dear friend, Larry Shamus.
Announcing a Brand New Worship Resource                                                                    
We are delighted to offer a brand new worship resource entitled "Worship for Fellowship Groups."  It contained high-definition video renditions of 12 Christmas Worship Songs (carols), as well as 14 "Songs for Kids and Grand-Kids (and the Young at Heart)" and 14 songs for Worship and Praise. In addition, there are accompaniment tracks included for 28 songs (as the Christmas Carols are already purely instrumental.)  To order your copy on either USB drive (to download directly into your laptop or PC) or via the File-Sharing Dropbox, please call or e-mail us and we will arrange to get this straight to you.
Ministry Contact Information
Our web site is www.stateoftheheart.org  An established 501C3 California non-profit corporation, tax-deductible donations and orders for worship CDs can be done online, or to State of the Heart Ministries, P.O. Box 56, Sierra Madre, CA  91025 or call 626- 836-4686
Ross' Ministry Schedule – January-May 2018
| | | | |
| --- | --- | --- | --- |
| Jan 6-7 | Sierra Madre CA | Mar 17-18 | Bellflower/Pasadena CA |
| Jan 13-14 | Family | Mar 24-25 | Melbourne/Orlando FL |
| Jan 20-21 | Williamstown MA | Mar 31-4/1 | OPEN |
| Jan 27-29 | Cardiff/Llanelli, U.K. | Apr 7-8 | OPEN |
| Feb 3-4 | Boston MA | Apr 14-15 | Pasadena CA |
| Feb 10-11 | Family | Apr 21-22 | Family |
| Feb 17-18 | Edmonton, Alberta, Canada | Apr 28-29 | San Antonio TX {tent.} |
| Feb 24-25 | OPEN | May 5-6 | OPEN |
| Mar 3-4 | Houston TX {tent.} | May 12-13 | Sierra Madre CA |
| Mar 10-11 | 40th Wedding Anniversary | May 19-20 | OPEN |