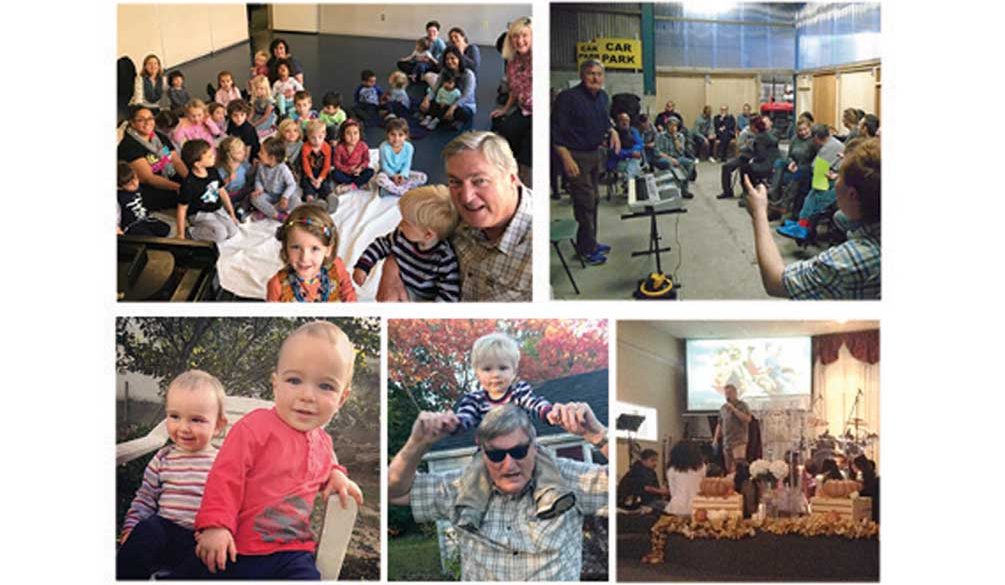 Photos clockwise from top left: Ross performing at Grace's Neighborhood Pre-School in New Haven CT; Ross shares with some delightful folks at Densholme Care Farm, Great Hatfield, Yorkshire, England; Ross leads children in worship at Communion de Gracia, Sun Valley CA; Gabriel on Grandpa's shoulders; the fast-growing twins in Central Asia, Evelyne & Isaiah!
Celebrating 20 years of ministry (1997-2017)
 Jesus called a little child to him, and placed the child among them. "Truly I tell you, unless you change and become like little children, you will never enter the kingdom of heaven."     Matt. 18:2-3
Announcing a Brand New Worship Resource                                                                    
For most of three months this past summer, we were busy preparing a worship resource entitled "Worship for Fellowship Groups."  It contained high-definition video renditions of 12 Christmas Worship Songs (carols), as well as 14 "Songs for Kids and Grand-Kids (and the Young at Heart)" and 14 songs for Worship and Praise. In addition, there are accompaniment tracks included for 28 songs (as the Christmas Carols are already purely instrumental.)  To order your copy on either USB drive (to download directly into your laptop or PC) or via the File-Sharing Dropbox, please call or e-mail us and we will arrange to get this straight to you.
Ministry Visits August-September 2017
The first week of August, I was honored to attend the "We Are GCI" Conference of Grace Communion International in Orlando, Florida.  In addition to conducting two breakout sessions on worship for fellowship groups, I also led worship for two days of sessions for administrators and mission developers.  It was so good to be able to catch up with brothers and sisters and fellow servants from around the world, many of whom Tammy and I have known for more than four decades.  After ten days of seriously spoiling our four grand-children (yes, together at our home, under the same roof, with their parents!) I traveled to Amarillo, Texas to serve in the Grace Communion congregation there, and also to lead in the morning service of Community Christian Fellowship in Clarendon TX and in the evening service at Calvary Baptist Church in Tulia TX.  I am so grateful for the gracious hospitality of Pastors Sammy and Julia O'Dell, Larry and Karen Capranica and Eddie and Joberta Helms, as well as my dear, dear friend Bill Edwards, who at 94 years young, insisted on making breakfast for me twice!
Ministry Visits October 2017
Perhaps the busiest month in twenty years of this ministry, I traveled to the United Kingdom and Mallorca, Spain for18 different programs over 10 days, including leading worship at three church festivals, praise concerts at two Methodist churches, two fund-raising concerts for the Hull and Bridlington Children's University (benefiting underprivileged inner-city children,) a concert at a Yorkshire Primary School AND a concert an Organic Care Farm where my dear friends, Denys and Mary Fell serve dozens of handicapped, beautiful children and adults every week.  After a day at home for laundry, Tammy and I ventured to Connecticut to look after Grace and Gabriel for a few days while their parents, Heidi and Lisa, took a little trip to celebrate their 10th wedding anniversary.  I was also persuaded (?) to give a concert for 25-30 of Grace's friends at her neighborhood pre-school, and then lead two worship services at the GCI churches in Stratford and Cromwell CT.  Kudos to new pastor Michael and Brenda Guibord! The last weekend of October took me to help Pastor Heber Ticas celebrate the blessing of more than 30 children at Communion de Gracia in Sun Valley CA.
Ministry Contact Information
Our web site is www.stateoftheheart.org  An established 501C3 California non-profit corporation, tax-deductible donations and orders for worship CDs can be done online, or to State of the Heart Ministries, P.O. Box 56, Sierra Madre, CA  91025 or call 626- 836-4686
Ross' Ministry Schedule – November 2017-March 2018
| | | | |
| --- | --- | --- | --- |
| Nov 4-5 | Fairfield/Sacr CA  Reno NV | Jan 13-14 | OPEN |
| Nov 11-12 | Chicago/Rockford IL | Jan 18-21 | Williamstown MA |
| Nov 18-19 | Amarillo TX | Jan 27-28 | OPEN |
| Nov 25-26 | Family | Feb 3-4 | OPEN |
| Dec 2-3 | Pasadena CA | Feb 10-11 | Pasadena CA |
| Dec 9-10 | Sierra Madre CA | Feb 17-18 | Family |
| Dec 16-17 | San Jose/San Francisco CA | Feb 24-25 | OPEN |
| Dec 23-24 | Family | Mar 5-15 | 40th Wedding Anniversary |
| Dec 30-31 | OPEN | Mar 17-18 | OPEN |
| Jan 6-7 | OPEN | Mar 24-25 | OPEN |