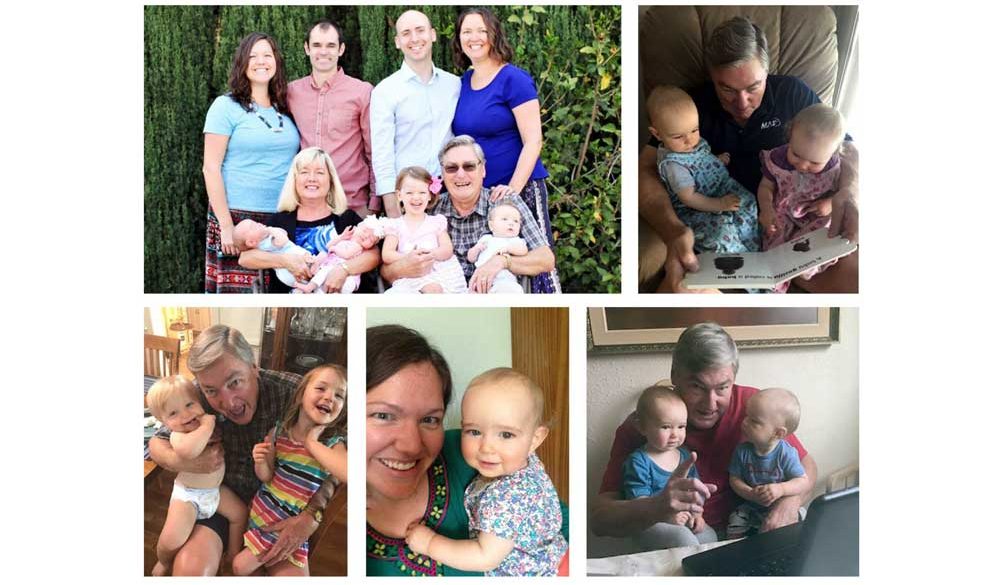 Celebrating 20 years of ministry (1997-2017)
Jesus said: "Yet a time is coming and has now come when the true worshipers will worship the Father in spirit and in truth, for they are the kind of worshipers the Father seeks."   John 4:23
What a Difference A Year Makes! Top row: Family one year ago, Grandpa reading to twins; Bottom row: Grandpa with Gabriel & Grace in Connecticut, Lisa and Evelyne, Grandpa getting tips on worship video editing from Evelyne & Isaiah!
Announcing a Brand New Worship Resource                                                                    
After twenty years of "State of the Heart Ministries" and sharing in hundreds of worship services in quite a variety of places, denominations, worship traditions and situations, we prayerfully considered what would best serve as a worship resource to provide for our many brothers and sisters who meet in homes, in house churches and fellowship groups.  More often than not, there is no live accompaniment for the singing, and many folks have chosen to use worship and praise DVDs that are available out there.  Some, like the IWorship series from Integrity Music are very professionally done and serve the purpose rather well.  However, there is sometimes concern some selections are pitched too high for the average voice, have more repetition than some might prefer, and that the words expressed are not always as theologically sound as one might wish.  So we spent most of the last three months preparing a worship resource entitled "Worship for Fellowship Groups."  It contained high-definition video renditions of 12 Christmas Worship Songs (carols), as well as 14 "Songs for Kids and Grand-Kids (and the Young at Heart)" and 14 songs for Worship and Praise. In addition, there are accompaniment tracks included for 28 songs (as the Christmas Carols are already purely instrumental.)  To order your copy on either USB drive (to download directly into your laptop or PC) or via the File-Sharing Dropbox, please call or e-mail us and we will arrange to get this straight to you.
Ministry Visits May-June 2017
May presented the opportunity to make a third visit to the Riverside Seventh-Day Baptist Church where I was warmly welcomed by Pastor Gabe Bejani, who had just returned from a trip to the country of my birth, Australia.  Mother's Day was very special as we were able to also celebrate our 39th wedding anniversary the same day, and receive wonderful Facetime calls from our children and grand-children.  Then followed community service in Palm Springs CA at the District Conference of Pasadena Rotary Club, of which I have been a member for over 35 years, and a return visit to West Valley Church of God in Northridge CA where I enjoyed worshiping and fellowshipping with long-time friends, including Pastor Ron and Norva Kelly.
In June, I made a return visit to in Williamstown MA to help produce and direct, with our dear friend Martha Williamson, a Musical Evening with alumni from the 1970s.  That Sunday morning, I was able to serve once again at the Grace Communion congregation in Schenectday, NY, before making a long drive to New Haven CT to spend a night and morning and do a little "spoiling" with our other two grand-children, Grace and Gabriel.  The rest of June and July I have been deeply involved in the above-mentioned video project and on working on new compositions.
Ministry Contact Information
Our web site is www.stateoftheheart.org  An established 501C3 California non-profit corporation, tax-deductible donations and orders for worship CDs can be done online, or to State of the Heart Ministries, P.O. Box 56, Sierra Madre, CA  91025 or call 626- 836-4686
Ross' Ministry Schedule – August-December 2017
| | | | |
| --- | --- | --- | --- |
| Aug 5-6 | Melbourne/Orlando FL | Oct 21-22 | Connecticut |
| Aug 12-13 | Family | Oct 28-29 | San Fernando CA |
| Aug 18-19 | Family | Nov 4-5 | Sacramento CA/Reno NV |
| Aug 25-26 | Sierra Madre CA | Nov 10-11 | Chicago/Rockford IL |
| Sept 2-3 | San Diego CA | Nov 17-18 | Pleasant Valley, Amar., TX |
| Sept 9-10 | Amarillo/Tulia/ClarendonTX | Nov 24-25 | Thanksgiving |
| Sept 16-17 | Los Anegles CA | Dec 2-3 | Pasadena CA |
| Sept 23-24 | OPEN | Dec 9-10 | Pasadena CA |
| Sept 30/Oct1 | La Jolla/San Diego CA | Dec 16-17 | San Jose/San Francisco CA |
| Oct 4-15 | United Kingdom/Spain | Dec 23-24 | Christmas |