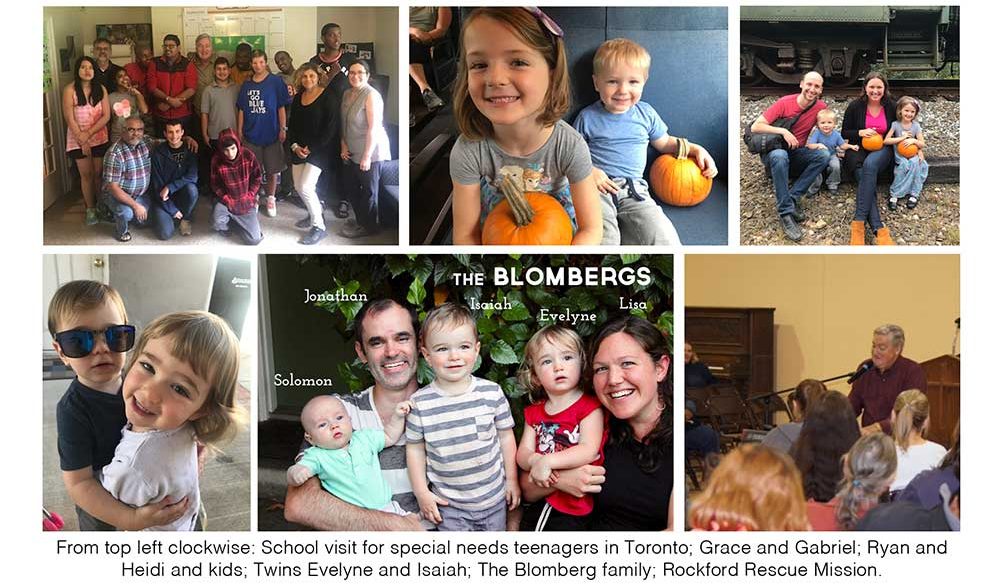 Jesus said: "Whoever welcomes one of these little children in my name welcomes me…" Mark 9:37                             
Family Updates                                                                                                      
Baby Solomon will soon turn six months and the twins, Evelyne and Isaiah, are almost two and half.  We are so delighted to have had this time with Lisa and Jonathan and their family close by here in Southern California.  We treasure our walks to the nearby parks and having Isaiah and Evelyne visit "Grammy Tammy and Grandpa's house!" The family's next adventure will take them in the early Spring to serve God's precious children in the Middle East.   Please pray for the family as they make preparations for yet another amazing overseas outreach serving God's precious children, and please pray that they would succeed in raising the necessary funds to make their important ministry possible.
Heidi continues her wonderful work with Innovations for Poverty Action in New Haven, Connecticut, taking her South Africa, Ghana, Kenya, Peru and Mexico.  Ryan teaches Theology at Yale University and serves as Managing Director of Yale's Center for Faith and Culture, with his work taking him to Peru also and to the United Kingdom.  Gabriel is enjoying his first year at the Neighborhood Music Pre-School and Grace is thoroughly enjoying Kindergarten.  We enjoy our regular Face-Time sessions from the Northeast and Tammy and I are looking forward to having the entire family together for a week at the end of the year.
Ministry Visits September-October 2018
After spending several very productive days in Methuen, Massachusetts working on a piano recording project at the home studio of my dear friend Jay Hovnanian, I traveled to West Texas.  A five-hundred mile round-trip drive with my dear friend, Pastor Sammy O'Dell, made it possible to lead an in-home worship service/concert at the Johnson, Kansas home of Mrs. Robbie Trussell, another treasured friend and long-time supporter of our ministry.  Then I was blessed once again to lead worship services for the Amarillo congregation of Grace Communion, at Calvary Baptist Church in Tulia, and Community Fellowship Church in Clarendon.  My wonderful host for the 15th year in a row was my dear friend and brother, Bill Edwards, who turned 95 years young this past summer!
The third weekend of September took me to Toronto in Ontario, Canada.  I had the delightful privilege of leading   worship services in three congregations of Grace Communion International, in Toronto East, at Cornerstone Christian Fellowship in Toronto West, and in Barrie.  It was great to catch up with many of my Canadian brothers and sisters and to be hosted, once again by Pastor Alvaro and Laura Palacio.  Before returning home, I was honored to spend Monday morning doing a little outreach at the school where Laura teaches, which caters to a wonderful group of teenagers with special needs.  (See photo in montage.)  In addition to joining them in a five-kilometer hike, I gave an upbeat concert and one of the young ladies made my day by saying I was better than Justin Bieber!
For the third year in a row, I was invited to lead a Sunday evening chapel service at the Rockford, Illinois Rescue Mission.  (See montage.)  It was incredibly moving to be able to once again minister to over 200 men, women and children being cared for at the mission.  While the members of Abundant Grace Fellowship served the evening meal, including "sloppy Joes," I fielded requests from the dear folks and played many of their favorites on the keyboard.  That morning, I led a worship service for the ABF house church (hosted by Mike and Kathleen Hembree and Pastors Carl and Luci Cramer) before we assembled the several hundred packed dinners.  The previous day I served again at Grace Communion in Milwuakee , Wisconsin, where I was graciously hosted by Pastor Tracy and Cherie Porter.
Ministry Contact Information                                                                                                     
We are an established 501C3 California non-profit corporation and tax-deductible donations and CD orders can be done online at www.stateoftheheart.org or to State of the Heart Ministries, P.O. Box 56, Sierra Madre, CA  91025 or call 626- 836-4686
Ross' Ministry Schedule – November 2018-March 2019
| | | | |
| --- | --- | --- | --- |
| Nov 3-4 | Sierra Madre CA | Jan 12-13 | Raleigh NC |
| Nov 9-12 | Fort Myers/Punta Gorda FL | Jan 19-20 | Family |
| Nov 17-18 | Los Angeles CA | Jan 26-27 | Huntsville TX (tent.) |
| Nov 22-25 | Vancouver WA | Feb 2-3 | OPEN |
| Dec 1-2 | Pasadena CA | Feb 9-10 | OPEN |
| Dec 8-9 | Pasadena CA | Feb 16-17 | Barbados/Trinidad (tent.) |
| Dec 12-16 | Richmond VA | Feb 23-24 | OPEN |
| Dec 22 | San Jose CA | Mar 2-3 | OPEN |
| Dec 29-30 | Family | Mar 9-10 | New Haven CT |
| Jan 5-6 | OPEN | Mar 16-17 | Pasadena CA |