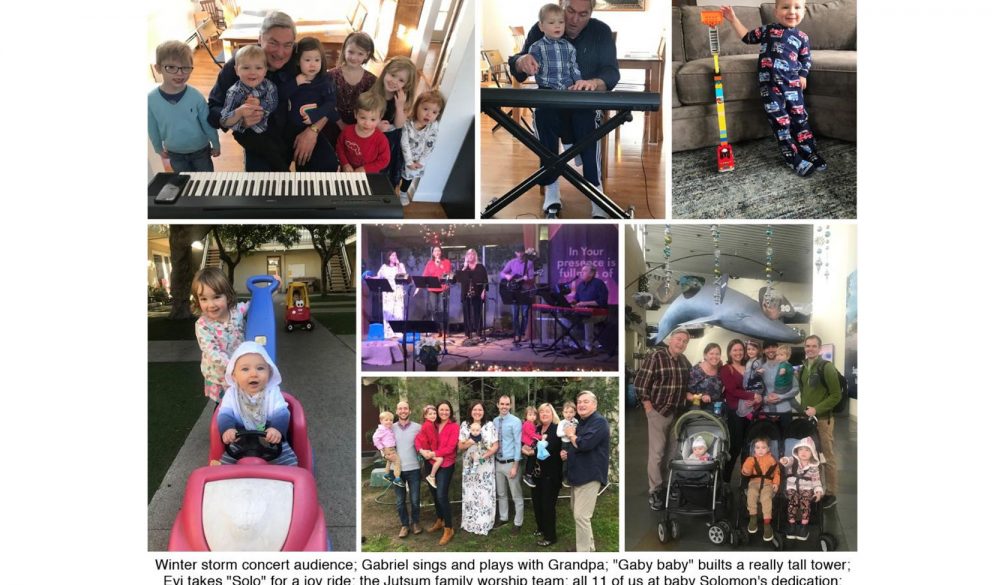 Jesus said: "Whoever welcomes one of these little children in my name welcomes me…" Mark 9:37                             
Family Updates   Our whole family was delighted to participate in the Dedication of baby Solomon Paul on December 23rd.  Pastor Roger Van Spronsen, of Life Christian Fellowship in Pasadena, California, conducted the service.  This wonderful congregation has been very supportive of Lisa and Jonathan (Blomberg) and family in their overseas mission work, lifting them up in prayer and contributing much-needed financial support.  Since the twins were dedicated there two years ago it was particularly appropriate for "Solo's" dedication ceremony to also be held there.  For the first time in more than a decade, the "Jutsum Family Worship Team" led the congregation in the opening worship and praise.  I was joined by Tammy, Heidi and Lisa on vocals and Ryan added guitar to the keyboard accompaniment.  Jonathan would have joined us but had 5 little ones to look after!   It was indeed a special day!  The Blomberg family is planning to head back overseas in two months to their new opportunities in the Middle East.  Your prayers for them are especially needed and appreciated as they make final preparations and secure the remainder of the necessary funding for this exciting and challenging adventure.
Ministry Visits – November/December 2018   It was great to make a return visit to Fort Myers, Florida to serve on behalf of Abundant Grace Fellowship.  This small fellowship group of Grace Communion International does amazing work in the Ft. Myers community serving lunch every Sunday and Wednesday to those in need. This group is certainly not short on drive and energy, but found they could really use some additional hands to make their efforts as effective as possible – enter the Ft. Myers Congregational United Church of Christ, located several miles away.  About two years ago, wonderful folks from this much larger congregation began helping twice weekly in the outreach, developing a smooth-functioning and synergistic team.  As a thank-you gift to the UCC team, and thanks to the green light given me by their delightful pastor, Dave Bucey, I was asked to serve as the guest worship leader/speaker at their Sunday morning worship service on November 11.  Since that day is Veteran's Day, we also saluted and honored those who had served the country in various branches of the armed services.  My hosts for this visit were my dear friends Dwight and Brenda Dean, whose generosity made the trip and the outreach opportunities possible.  It is not unusual for me to do one or two outreach programs on my weekend visits, but Dwight, knowing that I like (and need!) to be kept busy, schedules me for FOUR – Ft.Myers Brookdale Retirement Community, Woodland Assisted Living in Cape Coral, Life Care Center and Brookdale Punta Gorda Retirement  Community.  There would have been a fifth venue but they were under quarantine!  I dearly love sharing music with our cherished senior citizens – they LOVE to hear the familiar songs and hymns that take them back to the simpler days of their childhood.  A return visit to Richmond, Virginia enabled me to give programs at The Crossings and Westminster retirement communities and I led a Christmas service for Richmond Grace Fellowship, hosted by Pastors Bill & Davina Winn, Chip & Gilda Brockmeier.
Ministry Visits — January 2019  It was indeed an honor to serve at the Church of God 7th Day in Yonkers, NY, pastored by Granville Mullings, and also at Grace Christian Fellowship in Garwood NJ with Pastor John and Edna Adams and team.  (Special thanks to my "Jersey" hosts Olga and Paul Jendrek.)  I was scheduled for a concert at grand-daughter Grace's school for 100 5 year-olds but single-digit temperatures and downed trees caused school to be canceled.  Instead, I had a smaller audience of 8-9 youngsters at Heidi and Ryan's home.  The month of January ended with return visits to Celebration Christian Fellowship in Cary NC and Grace Communion in Wilson NC, thanks to my hosts Pastor Ken and Lana Hygh and Pastor Don Mason.
Ministry Contact Information We are an established 501C3 California non-profit corporation and tax-deductible donations and CD orders can be done online at www.stateoftheheart.org or call 626- 836-4686
Ross' Ministry Schedule – February – May 2019
| | | | |
| --- | --- | --- | --- |
| Jan 19-20 | Yonkers NY/Garwood NJ | Mar 30-31 | Huntsville TX (tent.) |
| Jan 26-27 | Wilson/Cary NC | Apr 6-7 | FAMILY |
| Feb 2-3 | Los Angeles CA | Apr 13-14 | OPEN |
| Feb 9-10 | Las Vegas NV | Apr 20-21 | Big Sandy TX (tent.) |
| Feb 16-17 | Bellflower CA | Apr 27-28 | OPEN |
| Feb 23-24 | Honolulu HI | May 4-5 | Hickory NC (tent.) |
| Mar 2-3 | OPEN | May 11-12 | OPEN |
| Mar 9-10 | Pasadena CA | May 18-19 | Baltimore MD (tent.) |
| Mar 16-17 | Melbourne/Orlando FL | May 25-26 | OPEN |
| Mar 23-24 | FAMILY | June 1-2 | Pasadena CA |