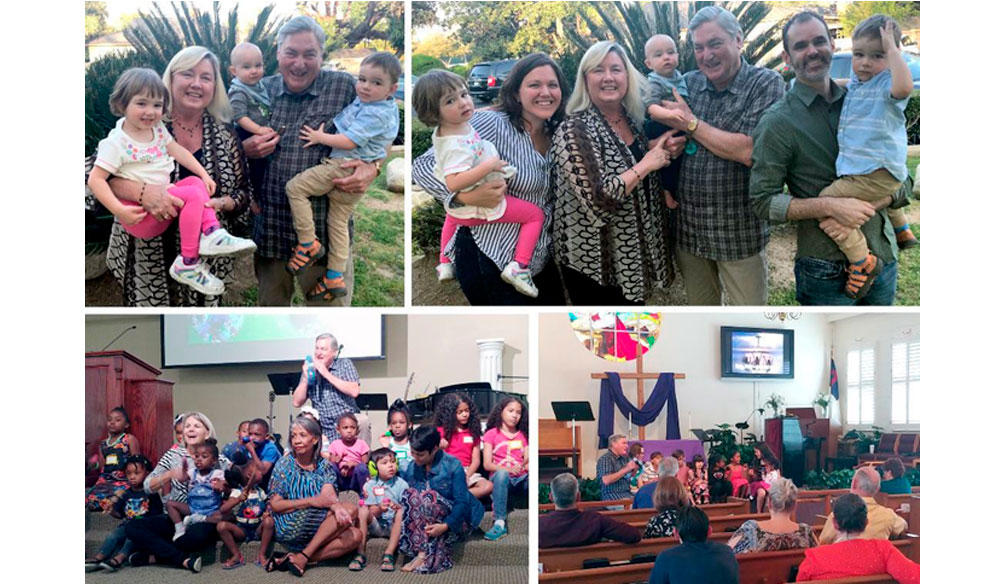 Clockwise from top Left – Grammy Tammy and Grandpa Rossy with twins Evelyne & Isaiah, and baby Solomon; the Blomberg family; Ross with precious children at Orlando Rescue Mission; with more children at church
Jesus said: "Whoever welcomes one of these little children in my name welcomes me…" Mark 9:37
Family Updates  It was with great sadness that Tammy and I said a temporary goodbye to our younger daughter Lisa, husband Jon and precious grand-children Evelyne, Isaiah and Solomon at the end of March as they traveled to their new home in the Middle East.  We are very grateful that they will be living in a much safer environment than their previous two overseas sojourns, but we would really appreciate your continuing prayers for their safety and security, and for God's provision of a suitable place to stay, suitable transportation, quick and effective new language learning and all of the many other needs that come with being so far away. Baby "Solo" turns 1 in May and the twins will be turning 3 in June, and we hope to visit them in November. Meanwhile, we also miss our older daughter Heidi, husband Ryan and almost 6 year-old Grace, and now 3 year-old Gabriel, living near New Haven CT. We look forward to seeing them in August and at Thanksgiving. FaceTime calls are a wonderful blessing, but they don't quite make up for living close by!
Ministry Visits – February-April 2019   As a long-time member of the Rotary Club of Pasadena CA, I often volunteer for various community projects and events. On January 31 I provided music at Rotary's Star Humanitarian Awards Dinner at the University Club. The following weekend Tammy had a work conference in Las Vegas NV and so I traveled there with her and made return visits as guest worship leader/speaker of the Church of God 7th Day, hosted by Pastor Jose Hernandez, and Grace Communion, hosted by Pastor Tom Melear. Next came a return visit to Grace Communion in Bellflower CA, hosted by newly-installed pastor, my dear friend Reuben Rios. Then I was able to serve and share at the wonderful Light of the World Christian Fellowship in Honolulu HI, hosted by Pastor Gary and Risa Crowell.
March highlights included a visit to Central Florida, where I was able to totally surprise grand-kids Grace and Gabriel as they enjoyed the Carousel at Disneyworld! (Heidi and I had conspired as our two trips coincided and the children had no idea!) Then I gave a return afternoon concert program at Trinity Wellsprings Church in Satellite Beach,  FL, and an evening program at Buena Vida Retirement Community in Melbourne FL. After serving again at Melbourne FL Grace Communion, hosted by my dear and long-time friend, Pastor Steve Schantz, I had a very busy Sunday in Orlando, first leading a worship service for almost 200 men, women and children at the Orlando Rescue Mission (see photo above,) followed by guesting for the 18th time in 21 years at Grace Communion Orlando, and ending the day with an evening Praise Concert for leaders of the newly-planted Belong Church, hosted so wonderfully by Pastor Howard and Becky Salter. Then, Life Christian Fellowship in Pasadena CA held a service for sending forth of Lisa and family as they move to the Middle East — this congregation continues to generously support and pray for them in their new venture/adventure!
In April, I continued weekly programs for the Skilled Care and Independent Living facilities at Kensington Retirement Community near our home in Sierra Madre, CA. I also traveled to Texas and led a Resurrection service for a wonderful group in Crowley TX, hosted by dear friend Pastor Tom and Lola Pickett. Then in Big Sandy TX, hosted by dear friends Pastor Jerome and Helen Ellard, I was honored to lead the Easter Sunday worship service at New Beginnings Christian Fellowship. The trip culminated with a return performance for 375 beautiful children at the Big Sandy Elementary School. (Words cannot properly express the joy and satisfaction that comes from hearing this large group singalong with me!) I've had the pleasure of knowing their soon-to-be retiring principal, Mrs. Donna Varnado, for 25 plus years. She will be greatly missed! It was also a true delight to catch up with my dear brothers – Rick Peterson, Tom Crabb and Marty Yale, each of whom I worked so closely with for more than two decades, and who continue to faithfully serve the Body of Christ.
Ministry Contact Information We are an established 501C3 California non-profit corporation and tax-deductible donations and CD orders can be done online at www.stateoftheheart.org or call 626-818-7113
Ross' Ministry Schedule – May-September 2019
| | | | |
| --- | --- | --- | --- |
| May 4-5 | Bradbury and Pasadena CA | July 13-14 | OPEN |
| May 11-12 | Chicago IL/Kenosha WI | July 20-21 | Cloudcroft/Alamagordo NM |
| May 18-19 | Bradbury and Los Angeles CA | July 27-28 | Portland OR (tent.) |
| May 25-26 | FAMILY | August 3-4 | FAMILY |
| June 1-2 | OPEN | August 10-11 | OPEN |
| June 8-9 | Williamstown MA/New Haven CT | August 17-18 | Hunstville/Houston TX (tent.) |
| June 15-16 | Arcadia CA | August 24-25 | OPEN |
| June 22-23 | Phoenix/Tucson AZ | Aug 31-Sept 1 | FAMILY |
| June 29-30 | Fort Wayne IN | Sept 7-8 | Amarillo/Clarendon/Tulia TX |
| July 6-7 | FAMILY | Sept 14-15 | Meriden/Stratford CT (tent.) |