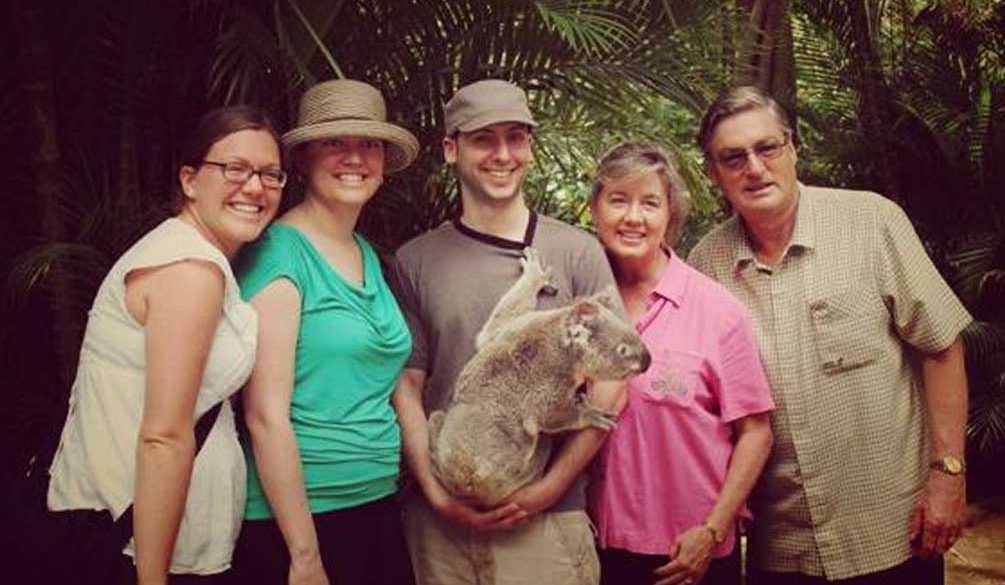 from the keyboard of Dr. Ross Jutsum
 "The Lord your God is with you, the Mighty Warrior who saves. He will take great delight in you;
In His love He will no longer rebuke you, but will rejoice over you with singing."  Zephaniah 3:17
First Trip "Down Under" in Nine Years!
Lisa, Heidi and Ryan (and Matilda!) and Tammy and Ross at Alma Park Zoo
It was indeed a wonderful opportunity to return to my homeland in Queensland, Australia for several weeks in December.  Tammy and I were joined by our daughter Lisa, who flew from the Democratic Republic of the Congo, and by our daughter Heidi and her husband Ryan from Connecticut, who delighted us with the news that they are expecting our first grand-child this summer!  We were welcomed by more than 80 family members at a special family reunion on Boxing Day (the Day after Christmas.)  As it was Ryan's first time down under, he was privileged to hold the koala at the zoo.  I was also able to lead worship and speak at four different churches – Rangeville Community Church in Toowoomba, Grace Community Church in Brisbane, Redcliffe Uniting Church and at a gathering of young people and members of Sydney's Grace Communion. We are so grateful to my brother and three sisters and their wonderful families for their treasured love and outstanding hospitality.
 Lisa Returns to the Congo for a Second Year with Samaritan's Purse
Lisa returned to Bunia in the Congo to continue her work with Samaritan's Purse.  She will have a short break for home leave at the end of February and then will return to begin her second year there.  Your ongoing prayers for Lisa, her team and the precious children they serve are so much appreciated.
 Some New Songs in My Heart!
My Father sings "you're the child I've always wanted
My beloved son for whom I've always longed
Precious daughter of mine, the apple of my eye
Come and join in the everlasting song"
These are the lyrics to the chorus of one of my new songs entitled "My Father Sings," inspired by the beautiful verse in Zephaniah 3:17.  In this season of fresh composition, I am convinced, more than ever, of the need to encourage and uplift God's children with songs that express the truly amazing love of our heavenly Father.  Your prayers for effective writing and sharing are also very much appreciated!
November – December Ministry Visits
November began with return visits to the Grace Communion congregations in Raleigh and Fayetteville, NC and a first time visit to the Wilson NC congregation.  Then followed return visits to the GCI congregations in San Jose and San Leandro CA and Richmond VA.  Before our trip to Australia, I was able to serve the Grace Communion congregations in Glendora CA and in Cromwell and Stratford CT.  I am so grateful to Pastors Ken and Lana Hygh, Earl Jones and Don Mason, Mel and Barbara Dahlgren, Jim and Hazel Roberts, Bill and Davina Winn, Neil and Susan Earle and Larry and Connie Wooldrige for their dedicated service to the Body of Christ and their wonderful welcomes and hospitality.
 Ministry Contact Information
Check out our web site at www.stateoftheheart.org  An established 501C3 California non-profit corporation, tax-deductible donations and orders for worship CDs can be done online, or by "snail mail" at State of the Heart Ministries, P.O. Box 56, Sierra Madre, CA  91025-0056 or by calling (626) 836-4686 (between 9 A.M. and 6 P.M. Pacific Time, please.)
 Ross' Ministry Schedule – January — June 2013
| | | | |
| --- | --- | --- | --- |
| Jan 5-6 | Sydney, NSW, Australia | Apr 13-14 | So. Cal. |
| Jan 12 | West Valley CA | Apr 20-21 | OPEN |
| Jan 19-20 | So. Cal. | Apr 27-28 | OPEN |
| Jan 26-27 | Baltimore MD | May 4-5 | OPEN |
| Feb 2-3 | OPEN | May 11-12 | Family (35th Anniversary) |
| Feb 9-10 | Chicago (tent.) | May 18-19 | OPEN |
| Feb 16-17 | So. Cal. | May 25-26 | OPEN |
| Feb 23-24 | Miami FL | June 1-2 | OPEN |
| Mar 2-3 | OPEN | June 8-9 | Williamstown MA |
| Mar 9-10 | OPEN | June 15-16 | OPEN |
| Mar 16-17 | Petersburg MI/Ft. Wayne IN | June 22-23 | OPEN |
| Mar 23-24 | Sacramento CA/Reno NV | June 29-30 | OPEN |
| Mar 30-31 | OPEN | July 6-7 | Family |
| Apr 6-7 | OPEN | July 13-14 | OPEN |