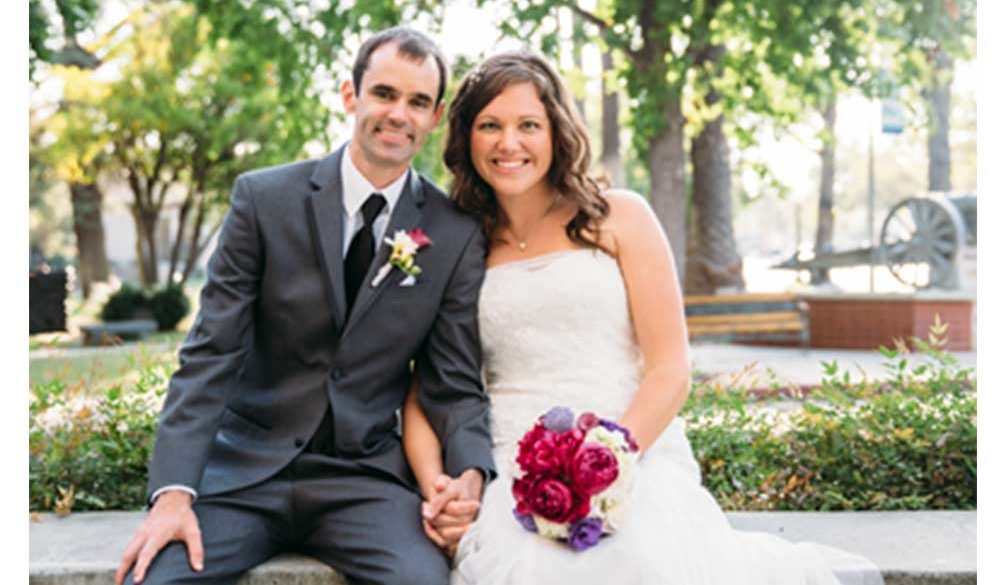 The happy bride and groom 
"He has made everything beautiful in its time. He has also set eternity in the human heart…" Eccl. 3:11
 June 28, 2014 was a wonderful day of celebration as Lisa and Jonathan were united in marriage.  It was a great treat to have family and friends from Australia and all over the U.S. join us for this very happy occasion.  The newly wedded couple will be living in Pasadena CA for at least the next twelve months while they both pursue their Master's degrees in Inter-Cultural Studies at Fuller Seminary.  We are delighted that they will be close by!  "Everything beautiful in its own time," indeed!!!
May-July 2014 Ministry Visits
May began with a return visit to the Denver CO congregation of the Church of God 7th Day and also leading worship services with the Grace Communion congregations in Colorado Springs and Arvada, and in Cheyenne WY.  A week later, together with Tammy, we led worship at Manhattan Community Church and New Life in Christ Church in Queens NY.  Of course, we also took advantage of spending a couple of days visiting our precious grand-daughter, Grace Victoria (and her parents!)  Grace turned one year old  July 21st.  From the Northeast, we crossed the Atlantic and arrived in the United Kingdom where we were able to serve in two London area churches – Mill Yard and Faith Seventh-Day Baptist.  We were also able to participate in a college reunion with many of my class mates from Ambassador College in Bricket Wood, England, where we attended, beginning in 1971 and until the campus closed in 1974.  It was so wonderful to be able to re-kindle friendships with many dear brothers and sisters, some of whom I hadn't seen in more than 40 years!  It was amazing how the same family spirit we had back then was still alive and well and it was heart-warming to share and celebrate this special reunion.
Apart from THE highlight of the year on June 28 (Lisa and Jonathan's wedding!) June took me once again to Williams College to accompany and direct music once again for the Williams Reunion and to participate in the inter-faith Service of Remembrance.  On another June trip, I was privileged to visit and serve, for the first time, the Grace Communion congregation in Lake George NY.  The same weekend I made a return visit to the GCI congregation in Cromwell CT.  July took me to Cleveland OH where I played for the wedding of Britt and Michelle Frankel – Britt is the younger son of Pastor Richard and Joyce Frankel, dear friends for more than 40 years (from Bricket Wood!) and in whose church I served the same weekend in Chicago IL, along with their sister congregation in Rockford IL.  Another special opportunity in July came in La Canada, CA where I provided background music and a special song for the 90th Anniversary Gala of Monte Vista Grove Homes (a retirement community for pastors and missionaries in the Presbyterian church in Southern California.)  We are so grateful to our awesome God for continuing to open new doors with fresh opportunities to serve Him.
 Ministry Contact Information
Our web site is www.stateoftheheart.org  An established 501C3 California non-profit corporation, tax-deductible donations/ orders for worship CDs can be done online, or to State of the Heart Ministries, P.O. Box 56, Sierra Madre, CA  91025-0056 or by calling (626) 836-4686 (9 A.M. and 6 P.M. Pacific Time)
Ross' Ministry Schedule – August 2014—January 2015
| | | | |
| --- | --- | --- | --- |
| Aug 2-3 | Sierra Madre CA | Nov 8-9 | San Jose/San Leandro CA |
| Aug 9-10 | Lakewood CA | Nov 15-16 | Kansas City MO |
| Aug 16-17 | Ashaway RI, Chestnut NH | Nov 22-23 | Pasadena CA |
| Aug 23-24 | Jonesboro AR | Nov 29-30 | Family |
| Aug 30-31 | Sierra Madre CA | Dec 6-7 | Pasadena CA |
| Sept 6-7 | Amarillo/Clarendon/TuliaTX | Dec 13-14 | Richmond VA |
| Sept 13-14 | Lancaster CA | Dec 20-21 | OPEN |
| Sept 20-21 | Euless/Dallas/Granbury TX | Dec 27-28 | Sierra Madre CA |
| Sept 27-28 | Alpena MI | Jan 3-4 | OPEN |
| Oct 4-5 | Edmonton, Alberta, Canada | Jan 10-11 | OPEN |
| Oct 11-12 | Harrisburg PA/Vienna VA | Jan 17-18 | Family |
| Oct 18-19 | Austin TX | Jan 24-25 | OPEN |
| Oct 25-26 | Wichita KS | Jan 31-Feb 1 | OPEN |
| Nov 1-2 | Atlanta GA | Feb 7-8 | OPEN |