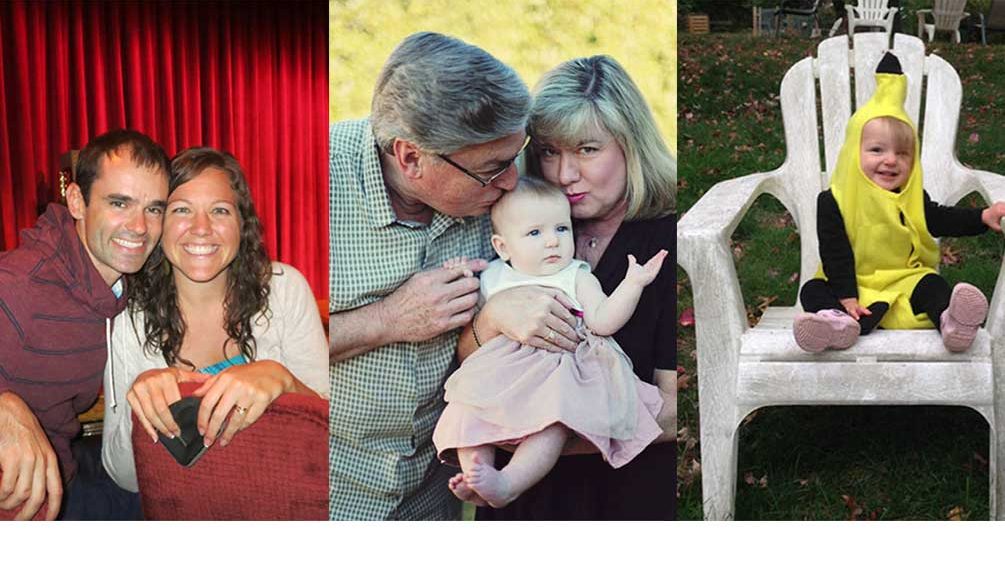 Grandpa, Grace, Grandma   –   "I am a banana!"   –   Lisa and Jonathan
"He has made everything beautiful in its time.  He has also set eternity in the human heart…" Eccl. 3:11
Update on "World's Cutest Grand-baby"!                                                       
The picture on the left was taken last December in our back yard when Grace was 5 months old.  Now she is 15 months old, and her current favorite fruit is a banana – hence the costume in the middle picture just last week for a church family gathering!  Proud father Ryan has several chapters completed on his doctoral dissertation at Yale University.  Grandma Tammy just returned from a week in Connecticut where she helped out while proud mother Heidi took a business trip to San Francisco with the wonderful non-profit for which she works – Innovations for Poverty Action.  Heidi is now in Lima, Peru doing work on their behalf.  We are SO looking forward to having the whole family home here in California in two weeks for Thanksgiving. 
Update on Lisa and Jonathan                                               
Four months after their joy-filled wedding, Jonathan and Lisa's days are filled with much-needed rest after three years in Congo, visiting with friends, family, and ministry partners, as well as attending classes. Both Lisa and Jonathan have decided to study intercultural studies and mission at Fuller Theological Seminary in Pasadena CA – they are renting a cute one-bedroom apartment near the Fuller campus, about five miles from our house. Their time in Congo inspired them to continue growing through further education. And with their passion for missions and desire to go back overseas, they want to be even more equipped to serve and love and bring God's Kingdom as He has called them to do.  They have both expressed that they feel so blessed for this brief season of classes and truly appreciate the prayers of so many friends and family.
August-October 2014 Ministry Visits                                                          
August began with a return visit to the First Seventh Day Baptist Church of Hopkinton, located in Ashaway, Rhode Island.  This historic church began in 1708!  The same weekend I was privileged to serve Chestnut Hill Chapel in New Hampshire for the third time.  So, why not make a side trip to New Haven CT to help daughter Heidi celebrate her 30th birthday while dear husband Ryan was away at a wedding – and of course, for some time with Grace!!!  The following weekend I made my 7th annual visit to Jonesboro, AR, where dear friends, Pastor Jeff and Trish Chandler kept me busy as always – Saturday I gave concerts at two Christian retirement communities, St. Bernard's Village and Culpepper Place, and on Sunday led worship services for Highland Drive Christian Church and Grace Communion and gave an evening concert at First Christian Church.  I was so happy to meet, for the first time, Dr. Debra Ann Matthews, pastor at Highland Drive and look forward to returning there, probably next year.
September brought a trip to Amarillo TX where, in addition to serving Grace Communion, I was able to also make return visits Calvary Baptist Church in Tulia TX and Community Fellowship Church in Clarendon TX.   I so appreciate Pastors Sammy O'Dell, Eddie Helms and Larry Capranica for their warm welcomes and for the wonderful hospitality of my dear friend Bill Edwards.  Following weekends took me to serve Desert Oasis Community Church in Lancaster CA, Grace Communion congregations in Euless and The Colony TX as well as Granbury TX Baptist Church, St. Paul Lutheran Church in Alpena MI along with a concert at Hillman Haven nursing home, churches in Edmonton, Alberta, Canada, Harrisburg PA, Vienna VA, Austin TX, Wichita KS and Atlanta GA.  All were memorable but the one that stands out the most happened in Wichita when, two weeks ago, I led a Concert of Praise jointly sponsored by the Church of God 7th Day and Word of Life Pentecostal Church! 
Ministry Contact Information
Our web site is www.stateoftheheart.org  An established 501C3 California non-profit corporation, tax-deductible donations/ orders for worship CDs can be done online, or to State of the Heart Ministries, P.O. Box 56, Sierra Madre, CA  91025 or call 626- 836-4686 (9 A.M. and 6 P.M. Pacific Time)
Ross' Ministry Schedule – November 2014—February 2015
| | | | |
| --- | --- | --- | --- |
| Nov 1-2 | McDonough/Dallas GA | Jan 3-4 | Bellflower CA |
| Nov 8-9 | San Jose/San Leandro CA | Jan 10-11 | Baldwin Park CA |
| Nov 15-16 | Kansas City MO | Jan 17-18 | Eugene/Salem OR |
| Nov 22-23 | Sierra Madre CA | Jan 24-25 | Murphy NC/Chattanooga TN |
| Nov 29-30 | Family | Jan 31-Feb 1 | Family |
| Dec 6-7 | West Valley/Pasadena CA | Feb 7-8 | Big Sandy/Gladewater TX |
| Dec 13-14 | Richmond VA | Feb 14-15 | Holden/Boston MA |
| Dec 20-21 | Sierra Madre CA | Feb 21-22 | Baltimore MD |
| Dec 27-28 | Glendora CA | Feb 28-Mar 1 | Pasadena CA |