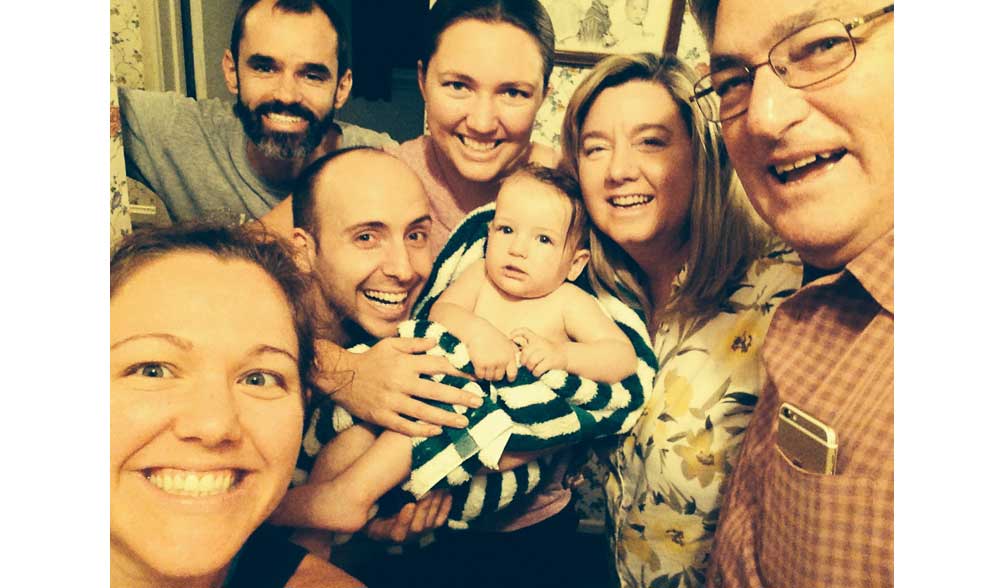 "How great is the love the Father has lavished on us, that we should be called children of God!   And that is what we are!"  I John 3:1
Family "Selfie" – Thanksgiving Day 2014
Update on "World's Cutest Grand-baby!"                                                       
This family "selfie" was taken at our home on Thanksgiving Day 2014 – Grace is fresh out of the bath and not too amazed at the adults' carrying on!  What a delight it was to have all the family home over this special holiday.  With Grace now at eighteen months, Tammy and I look forward to several "Face Time" calls each week and, of course, we sing some of her favorite songs at the piano and she is quick to call out "more, please" before each song is quite finished!
Family Update                                                                                                                   
Daughter Heidi made a trip to Peru in November to conduct  meetings for her organization, Innovations for Poverty Action.  Meanwhile, Ryan is busy working to complete his Ph.D. dissertation in Theology at Yale University  in New Haven, CT.  He is also co-writing a book with his professor, Miraslav Volf, and they have a contract with a prominent publisher.  "Newly weds" Lisa and Jonathan continue with their Masters' classes in Intercultural Studies at Fuller Seminary in nearby Pasadena.  They are spending the month of January in Nampa, Idaho, working at headquarters of Mission Aviation Fellowship.  We may find out soon where their next assignment will be.  Tammy is recovering from a tear in her right knee's meniscus and I'm sure would appreciate your prayers for complete healing and restoration.  She has been very frustrated not to be able accompany me on our morning walks, but is hoping to resume those soon!
November 2014-January2015 MinistryVisits                                                          
November began with return visits to the South-East Atlanta Seventh-Day Baptist church and Freedom Church in Dallas GA, followed by wonderful Thanksgiving services in South Bay Christian Church in San Jose CA and One in Christ Community Church in San Leandro CA, the Church of God Seventh-Day and Living Grace Fellowship in Kansas City MO.  Then, on Thanksgiving Day, I enjoyed playing again at the Community Outreach Thanksgiving meal at the Pasadena, CA Salvation Army.  In December, I was privileged to return once again to the West Valley Church of God in Northridge CA, and to Richmond Grave Fellowship in Virginia.  Just before New Year's I was a guest worship leader/speaker once again at New Covenant Fellowship in Glendora CA and just after New Year's at Grace Communion International in Bellflower CA.  After a month of no plane travel, I enjoyed a wonderful visit to Living Grace Christian Fellowship in Eugene OR and to Living Hope Church in Salem OR.  I am so very grateful to all the pastors and hosts this past year, and to all of our ministry partners and friends who continue to support us with their generous donations and heartfelt prayers.
Ministry Contact Information
Our web site is www.stateoftheheart.org  An established 501C3 California non-profit corporation, tax-deductible donations/ orders for worship CDs can be done online, or to State of the Heart Ministries, P.O. Box 56, Sierra Madre, CA  91025 or call 626- 836-4686 (9 A.M. and 6 P.M. Pacific Time)
Ross' Ministry Schedule – February – May 2015
| | | | |
| --- | --- | --- | --- |
| Jan 17-18 | Eugene/Salem OR | Mar 21-22 | Sacramento CA/Reno NV |
| Jan 24-25 | Murphy NC/Chattan. TN | Mar 28-29 | Riverside CA |
| Jan 31-Feb 1 | Family | Apr 4-5 | Chillicothe/Cincinnati OH |
| Feb 7-9 | Texarkana/Big Sandy/Longview TX | Apr 11-12 | Melbourne/Orlando FL |
| Feb 14-15 | Holden/Waltham MA — Postponed | Apr 18-19 | Philadelphia PA/Baltimore MD |
| Feb 21-22 | Mitchellville/Baltimore MD | Apr 25-26 | Sierra Madre CA |
| Feb 28-Mar 1 | Pasadena/N. Hollywood CA | May 2-3 | Big Sandy TX |
| Mar 7-8 | Hamilton/Uxbridge Ontario | May 9-10 | Family |
| Mar 14-15 | New Haven CT/Holden/Boston MA | May 16-17 | OPEN |