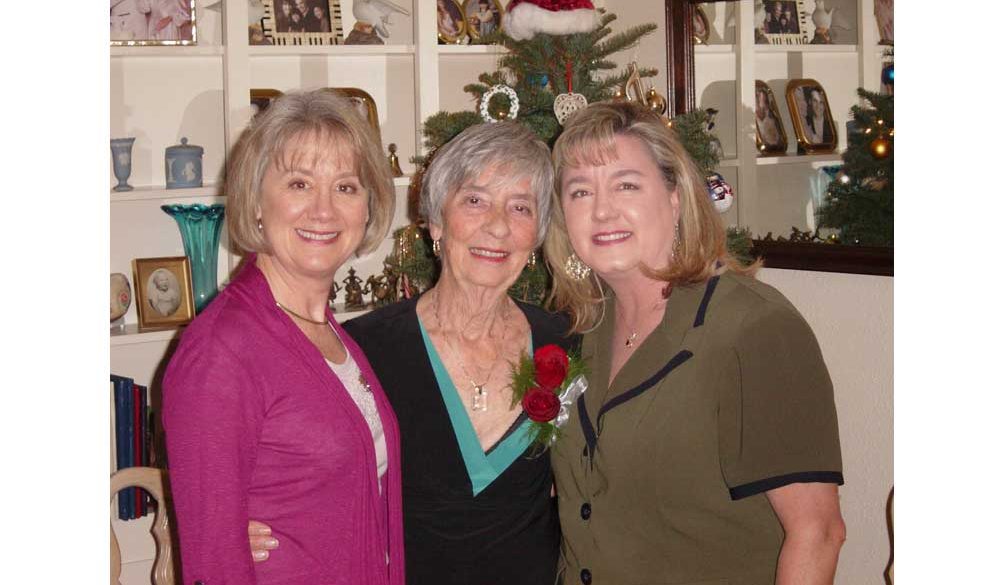 Grace (our dear "Mum") with daughters Linda and Tammy on her 80th birthday in 2010
"Precious in the sight of the LORD is the death of his faithful servants"  Psa. 116:15
                                               Passing of Tammy's dear mother, Grace                                                   
Tammy's dear mother, Grace, passed away on March 20, the first day of Spring, in her 85th year.  Grace had lived with us in Southern California for more than 10 years before moving up to Washington state a few years ago to be closer to Tammy's sister, Linda and her family.  Since my "Mum" died way back in 1980, "Granny," as Grace was affectionately known, was like a mother to me as well these past few decades, and dearly loved by our daughters, Heidi and Lisa.  We held a "Celebration of Life" at our home a few weeks ago, connected by Face Time with family and friends in Washington and Texas.  In addition to sharing fond memories of Grace, we also sang some of her favorite songs.  Our 21 month old grand-daughter, Granny's namesake, Grace, decided to climb up on my knees at the beginning of the Celebration and said "B-pa – Whole World please!"  So we opened with a moving and lively (and very appropriate!) rendition of "He's Got the Whole World in His Hands."  And indeed, our loving God does have Grace!
Lisa and Jonathan to Central Asia                                                                                                                   
Our younger daughter, Lisa, and her husband Jonathan, are being assigned with Mission Aviation Fellowship (MAF) beginning in August to Central Asia.  They will spend the next three months doing language and culture training and orientation, and Jonathan will also do additional pilot training.  Your prayers for this wonderful couple would be most appreciated as they prepare for this new and challenging chapter in their lives, serving God's precious children – being the eyes and lips and hands of Jesus.
Update on Heidi, Ryan and Grace in Connecticut                                                                                                                                                                                                                                                  
Heidi is recovering from a broken ankle after falling hard on the ice in New England.  Ryan is busy completing his doctoral dissertation at Yale and Grace Victoria is still the world's "cutest grand-baby!"
February-April 2015 Ministry Visits                                                                                                                  
A wonderful first time visit to serve the Seventh Day Baptist Church of Texarkana AR was followed by a concert at the Highland Pines Nursing Home in Longview TX, and a return visit to New Beginnings Fellowship in Big Sandy TX.  Monday morning I gave a "Black History Month" concert for over 500 young people at the Big Sandy Elementary School.  What a great audience!  A planned visit to the Boston MA congregation of Grace Communion International (GCI) had to be re-scheduled to mid March due to a massive snowstorm, as did a planned visit the following weekend to the Baltimore MD GCI congregation.  However, I did make my commitment to serve in the Central 7th Day Baptist Church of  Mitchelville MD, before being at a complete standstill in my car on the Baltimore turnpike for more than two hours!  At the end of February, Tammy and I were able to attend an Ambassador College reunion in Pasadena CA and catch up with many dear (and old!) friends.
March saw a visit to Access Community Church in Hamilton, Ontario, Canada, as well as return visit to Trinity Uniting Church in Uxbridge, near Toronto, followed by serving once again in the GCI congregations in Sacramento CA and Reno NV, as well as at the 7th Day Baptist Church in nearby Riverside CA.  The rescheduled Boston visit was combined with spending a few days with our grand-daughter Grace in New Haven, helping out her mother, our daughter Heidi, who had slipped on the ice and broken her ankle.  April took me to return visits at GCI congregations in Chillicothe and Cincinnati OH, Philadelphia PA Church of God 7th Day, New Life Fellowship of Baltimore MD, as well as giving seven different programs in Central Florida (including Trinity Well Springs Presbyterian in Satellite Beach, Hibiscus Court Assisted Living in Melbourne, the Treasure Coast COG7 congregation in Pt. St. Lucie, GCI congregations in Melbourne and Orlando, a "Light the Fire" outreach praise event in Winter Park, and a very special opportunity to serve at Orlando Union Rescue Mission!)
Ministry Contact Information
Our web site is www.stateoftheheart.org  An established 501C3 California non-profit corporation, tax-deductible donations/ orders for worship CDs can be done online, or to State of the Heart Ministries, P.O. Box 56, Sierra Madre, CA  91025 or call 626- 836-4686 (9 A.M. and 6 P.M. Pacific Time)
Ross' Ministry Schedule – May-August 2015-
| | | | |
| --- | --- | --- | --- |
| May 2-3 | Big Sandy/Hawkins T X | July 1-5 | Milwaukee WI |
| May 9-10 | Sierra Madre CA | July 11-12 | OPEN |
| May 16-17 | OPEN | July 18-19 | Sierra Madre CA |
| May 23-24 | Family | July 25-26 | Pasadena CA |
| May 30-31 | Sierra Madre CA | Aug 1-2 | Family |
| June 6-7 | Milwau/Beloit/Kenosha WI | Aug 8-9 | Family |
| June 13-14 | Williamstown MA | Aug 15-16 | OPEN |
| June 17-21 | Nampa/Boise ID/Ontario OR | Aug 22-23 | Windham, ME |
| June 26-30 | Chicago IL | Aug 29-30 | Jonesboro AR |