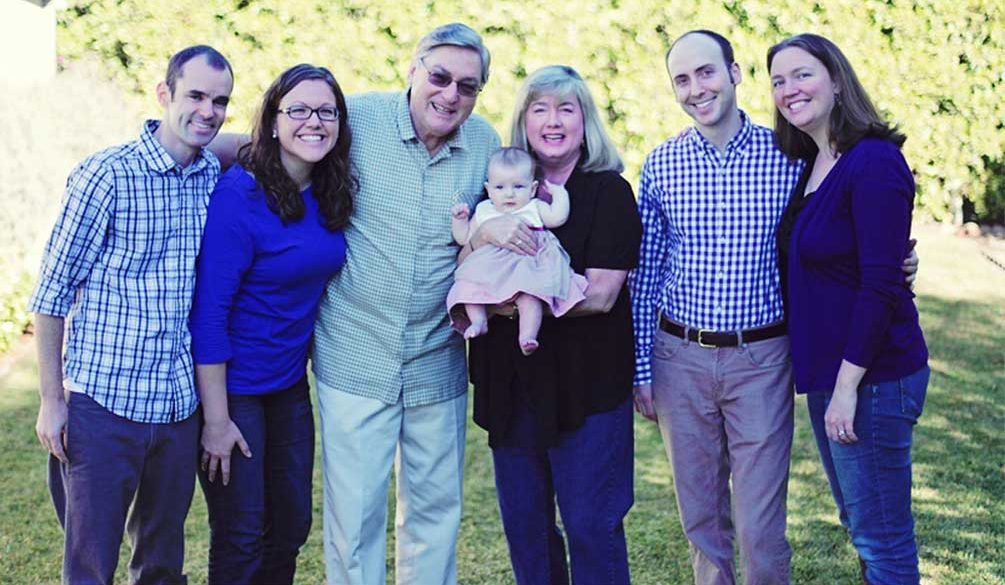 Lisa and her fiancé, Jonathan, Grandpa Ross and Grandma Tammy with Grace,
and proud parents Heidi and Ryan – Sierra Madre CA – December 26, 2013
from the keyboard of Dr. Ross Jutsum
"Jesus said: 'Let the little children come unto Me… of such is the kingdom of heaven'" Matt. 19:14
  The Engagement of Lisa and Jonathan
Lisa came home to California for a break from her strenuous work in the Congo (DRC) with Samaritan's Purse, and brought with her a very special friend, Jonathan (pictured above with the family.)  Jonathan is a pilot in the Eastern Congo and for the past two years has been working together with Lisa, often taking her to some of most challenging and dangerous field sites.  After taking me out for coffee for "the talk," and then visiting Jonathan's family in Boise, ID, where his parents work at the HQ for MAF, they announced their engagement and plans for a June 28 wedding. Needless to say, Tammy and I, and the whole family are thrilled for Lisa and Jonathan.
Unfortunately, Lisa has been experiencing a lot of back pain during her past few months of work in the DRC and it had gotten to the point that surgery seemed to be the only option.  With the blessing of her wonderful organization, she didn't return to the Congo two weeks ago with Jonathan as planned, but underwent the operation at Pasadena's Huntington Hospital last week.  She is recovering well and as she continues her rehab here at home in Southern California, while continuing to work from home for Samaritan's Purse.  Lisa plans to return in March for two months to wrap up her work.  Your prayers for Lisa's complete recovery are most appreciated, as well as for her and Jonathan's safety.
Update on Heidi and Ryan and "Princess Grace Victoria!"
What an absolute delight to have Heidi and Ryan spend Christmas week with us.  Grace is at the stage where she is almost sleeping through the night and is fascinated with everything around her – music, lights, the fireplace (yes, nothing was held back for our first grand-child, even in 75 degrees So. Cal!)
Grace especially enjoyed our morning walks and being entertained by Aunt Lisa and soon-to-be Uncle Jonathan, not to mention lots of songs from Grandma and Grandpa – her favorite, "Let's Go Fly a Kite!"
After the week with us, Heidi and Ryan took Grace to visit their wonderful project in Santiago Atitlan in Guatemala.  Their work, "Just Apparel" was begun when Heidi was in college, then continued after their wedding as lived there for a year and it continues to flourish – many Majan women (mostly widows) and their families are now making a decent living and it even enables their children to go to school.
November-December 2013 Ministry Visits
I was supposed to fly on November 1 from LAX to Toronto, Canada, but due to the shooting of a TSA officer at the airport, the entire airport was shut down to incoming traffic for most of the day.  I waited patiently for quite a few hours and finally realized, even if I made a later flight it would be too late to honor my two Saturday church commitments in Ontario.  I flew out Saturday in time to honor my commitment to lead the morning worship service, give an afternoon worship seminar and an evening concert at Trinity United Church in Uxbridge.  It was great to re-connect with college friends Richard and Annette Forkun, and make many new friends, including my hosts Pauline and Dave Streeter.  The following weekend I served for the "umteenth" time at the wonderful South Bay Christian Church in San Jose, CA  and One in Christ Church in San Leandro, CA.  Then it was off to Boston in order to lead a worship service and give an outreach concert at Sonlight Christian Fellowship in Loudon, NH.  Since we traveled to Vancouver WA to spend Thanksgiving with Tammy's sister, Linda, her husband, Richard, and mother Grace, I was able to serve at Abundant Grace Fellowship in Vancouver, and Living Faith Christian Fellowship in Tigard, OR.   Many thanks to Pastor Kirby Constable, Mel & Barb Dahlgren, Jim & Hazel Roberts, Thom & Marlene Friedrich and Dee and Lisa Bulante for these wonderful opportunities.  The pastors who continue to support and encourage our ministry are to be treasured!
Ministry Contact Information
Our web site is www.stateoftheheart.org  An established 501C3 California non-profit corporation, tax-deductible donations/ orders for worship CDs can be done online, or to State of the Heart Ministries, P.O. Box 56, Sierra Madre, CA  91025-0056 or by calling (626) 836-4686 (9 A.M. and 6 P.M. Pacific Time)
Ross' Ministry Schedule – February–August 2014 
| | | | |
| --- | --- | --- | --- |
| Feb 1-2 | Barbados/Trinidad | May 10-11 | Queens/Manhattan NY |
| Feb 8-9 | Wilson/Raleigh NC | May 17-18 | Mill Yard SDB, London, UK |
| Feb 15-16 | San Gabriel/Bellflower CA | May 24-25 | Faith SDB, London, UK |
| Feb 22-23 | Cookeville//Nashville TN | May 31-1 | OPEN |
| Mar 1-2 | Toledo OH/Detroit MI | June 7-8 | OPEN |
| Mar 8-9 | Miami/Ft. Laud/PomBeach FL | June 14-15 | Williamstown MA |
| Mar 15-16 | Phoenix/Tucson AZ | June 21-22 | Lake George NY/Cromwell CT |
| Mar 22-23 | Sierra Madre CA | June 28-29 | Lisa & Jonathan's Wedding! |
| Mar 29-30 | Melbourne/Orlando FL | July 5-6 | OPEN |
| Apr 5-6 | Las Vegas, NV | July 12-13 | Cleveland/Columbus, OH |
| Apr 12-13 | Milwaukee WI/Cicero IL | July 19-20 | La Canada, CA |
| Apr 19-20 | WheelingWV/Washington PA | July 26-27 | OPEN |
| Apr 26-27 | Hillsdale NJ | Aug 2-3 | Family |
| May 3-4 | Denver CO | Aug 9-10 | Family |