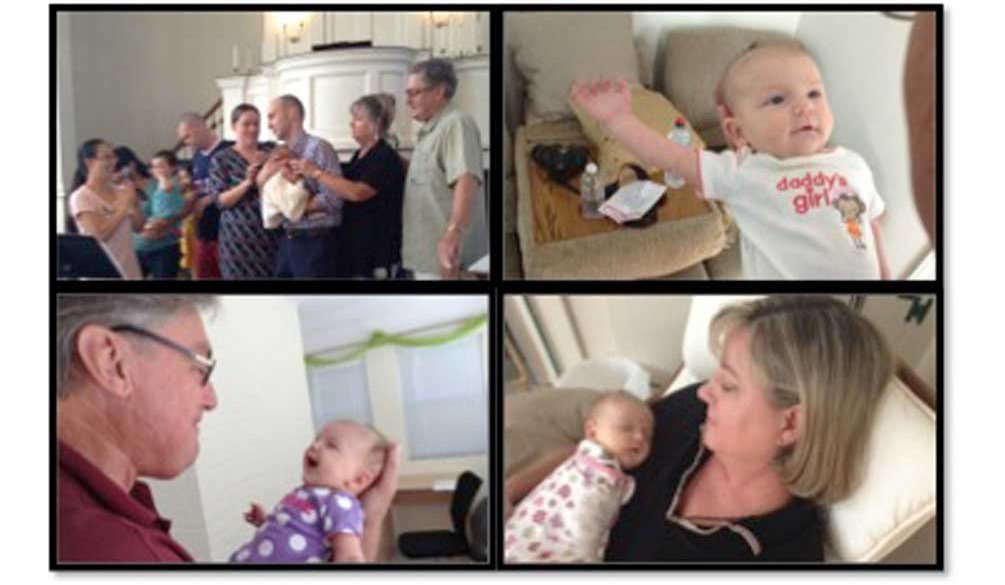 from the keyboard of Dr. Ross Jutsum
"Jesus said: 'Let the little children come unto Me… of such is the kingdom of heaven'"

The dedication of our first grand-child – precious Grace Victoria
 "Princess Grace Victoria!"
Tammy and I thoroughly enjoyed a 5-day visit in early September to New Haven CT to meet our first grand-child, Grace Victoria (born July 21st)  Proud parents, Heidi and Ryan, scheduled the dedication of baby Grace to coincide with our visit.  (Aunt Lisa arrived from the Congo a couple of weeks later to spend her R and R getting to know here new niece.)  Grace had just started to smile (and as you can see above, is already praising God!)  In honor of Grace's arrival, I composed "A Mother's Lullaby" and Tammy sings it so beautifully on our latest family worship CD.  Here is a portion of the lyrics:                                                     
Jesus loves the little children – you're so precious in His sight
And He know your name and whispers when you go to sleep at night
Sleep very well, my precious baby – rest well my darling child
Please know the joy it brings my heart to sing "A Mother's Lullaby
Update from Lisa and Samaritan's Purse in the Congo                                                            
On October 29, Lisa writes: "I am so privileged to serve with Samaritan's Purse here in eastern DRC.  In this country plagued by war and displacement, SP is a light in the midst of despair, providing emergency relief and working closely with local churches.  SP's Operation Christmas Child is also active in DRC, supporting the local church to reach out in their communities with both evangelism and discipleship.  I praise God daily for the opportunity to serve in a place like this.  For His Glory, for His Kingdom!"
 August 2013 Ministry Visits
In early August I was delighted to attend the worldwide conference of Grace Communion International in Orlando FL.  In addition to giving two worship seminars, I was invited by the denominational president, Dr. Joseph Tkach, to lead worship for the Mission Developers' sessions.  It was wonderful to catch up with hundreds of dear friends from around the world.  At the end of August, I made my fifth yearly visit in a row to Jonesboro AR, where I served in 4 churches (Seventh-Day Adventist, Community of Christ, Christian Life Fellowship and First Christian Church) as well as presenting concerts at two Christian retirement communities, Culpepper Place and St. Bernard's Village.  I am very grateful to my hosts and dear friends, Jeff and Trish Chandler, and Gina and Bill Winchester.
 September-October 2013 Ministry Visits
The morning of baby Grace's dedication, I was invited by Pastor Jerry and Joan Backhus to lead the worship service at Living Hope Family Fellowship in Hillsdale NJ.  The following weekend took me to Amarillo TX for my yearly visit to serve in the Grace Communion congregation, as well as the First United Methodist Church in Hart TX, the First Baptist Church in Tulia TX and Community Fellowship Church in Clarendon TX.  My hosts, Pastor Sammy and Julia O'Dell and Bill Edwards are truly dear friends and wonderful fellow servants of our Lord! Immediately after my West Texas trip, I embarked on a 13-day trip to Europe where I was privileged to serve as a guest speaker and worship leader at GCI worship festivals in Paignton and Bridlington in England, and in Mallorca, Spain.  I also participated in a resort concert in Mallorca, and lead worship at two harvest festivals in the U.K. – one at the Organic Care Farm of dear friend, Denys Fell ("Densholme") and the other at the First Methodist Church of Withernsea.  After a few days at home, Tammy and I flew to Edmonton, Alberta where she joined me in leading worship services at the Grace Communion congregation and also at Journey Church of God, in addition to giving a concert at Caleb Manor, a Christian retirement village.
Ministry Contact Information
Our web site is www.stateoftheheart.org  An established 501C3 California non-profit corporation, tax-deductible donations/ orders for worship CDs can be done online, or to State of the Heart Ministries, P.O. Box 56, Sierra Madre, CA  91025-0056 or by calling (626) 836-4686 (9 A.M. and 6 P.M. Pacific Time)
Ross' Ministry Schedule – November 2013 – May 2014 
| | | | |
| --- | --- | --- | --- |
| Nov 2-3 | Hamilton/Uxbridge, Ontario | Feb 8-9 | Wilson/Raleigh NC |
| Nov 9-10 | San Jose/San Leandro CA | Feb 15-16 | San Gabr/Bellflower CA |
| Nov 16-17 | Boston MA/Concord NH | Feb 22-23 | Cookeville/Mur'boro/Nashville TN |
| Nov 23-24 | Vancouver WA/Tigard OR | Mar 1-2 | Toledo OH/Detroit MI |
| Nov 30-Dc 1 | Los Angeles CA | Mar 8-9 | Miami/Pompano Beach FL |
| Dec 7-8 | Duarte/Pasadena CA | Mar 15-16 | Pasadena CA |
| Dec 14-15 | Pasadena CA | Mar 22-23 | Toronto, Ontario, Canada (tent.) |
| Dec 21-22 | Family | Mar 29-30 | Orlando/Melbourne FL |
| Dec 28-29 | OPEN | Apr 5-6 | OPEN |
| Jan 4-5 | LCOTC, Laguna Woods CA | Apr 12-13 | OPEN |
| Jan 11-12 | Houston/Beaumont TX | Apr 19-20 | Wheeling WV/WashingtonPA |
| Jan 18-19 | Jacksonville FL | Apr 26-27 | OPEN |
| Jan 25-26 | Cornerstone/Long Beach CA | May 3-4 | OPEN |
| Feb 1-2 | Bridgetown, Barbados/Port of Spain, Trinidad | May 10-11 | Manhattan/Queens NY |