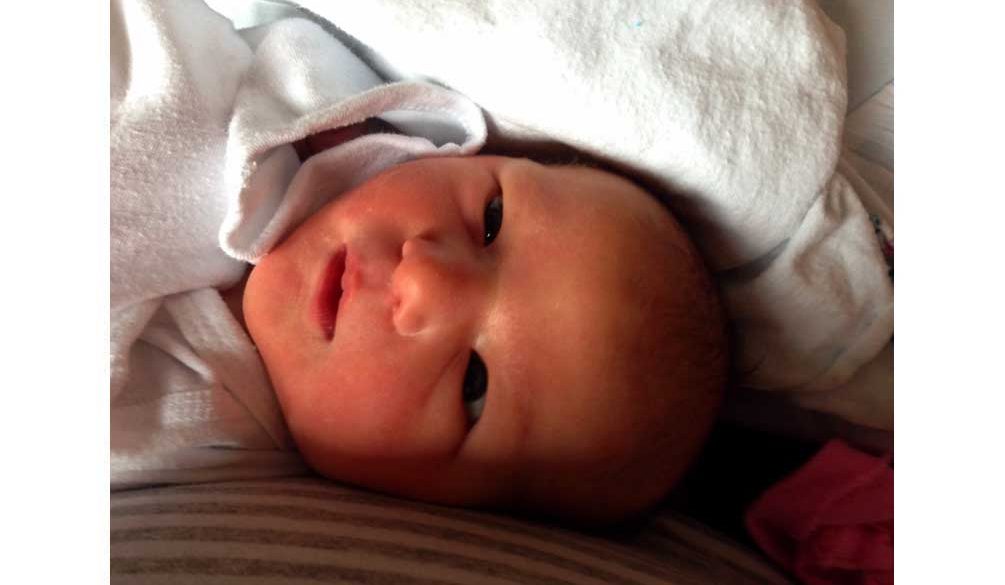 from the keyboard of Dr. Ross Jutsum
"Let the message about the Messiah dwell richly among you, teaching and admonishing one another in all wisdom and singing psalms, hymns and spiritual songs, with gratitude in your hearts to God." Col. 3:16
Our first grand-child – precious Grace Victoria
Our First Grand-child Arrives!
Daughter Heidi and son-in-law Ryan welcomed their first child, our first grand-child, Grace Victoria on Sunday, July 21.  She is, of course, the perfect baby, weighing in at 7 lbs 2 oz.  Everyone is doing fine and "Grandma and Grandpa Jutsum" are particularly ecstatic!  Look for Tammy's beautiful rendition of "A Mother's Lullaby" on our new CD!!!  We are looking forward to seeing Grace and her parents in the near future.  Aunt Lisa is taking her next R and R from the Congo in Connecticut to meet her first niece.
 Two Brand New CDs completed
We just completed our 6th family worship CD, "Our Father Sings!" containing original worship and praise songs.  Also, just completed, is my 6th piano solo CD, including medleys from best-loved musicals entitled "Music from the Heart."  One of my new songs is called "No Worries!" and research reveals that this commonly-used expression originated, not with Aussies, but with Jesus!  Here are the chorus lyrics:
He said:  "No Worries! — don't fret about tomorrow
but seek first His Kingdom today"
He said:  "No Worries! — no more anxiety or sorry
Be thankful, relax and always pray!
May began with a trip to East Texas and a blessed return visit to New Hope Christian Fellowship in Euless TX, a wonderful, first-time visit to New Covenant Fellowship in Tyler TX and an enjoyable return visit for a Sunday evening Concert of Praise to First Baptist Church in Gladewater TX.  I was so grateful to Pastors Tom Pickett, Dave Orban and Bailey Harris for their warm welcomes.  Two weeks later I was privileged to participate in an Ecumenical service in San Diego CA at the District Conference of Rotary International.  I have been a member of this fine service organization for more than three decades and truly appreciate their passion to serve in local communities and around the world.
June took me to Boston for the first of three June trips – the first weekend serving the Seventh-Day Baptist congregation in Ashaway, RI (founded in 1708!) and then in the Community Church of Providence RI (founded in the 1600s!), thanks to Pastors Dave Stall and Dr. Evan Howard.  The second weekend I was back at Williams College for the 12th year for the Reunion Weekend with our dear friend, Martha Williamson, an alumnus of the class of 1977 and now a member of the Board of Trustees.   I was invited to participate in their Ecumenical Service before heading home to California.  The third trip to Boston, the last weekend in June, enabled me to visit our daughter Heidi and son-in-law, Ryan, in New Haven CT.  The weekend included leading worship at the Grace Communion congregations in both Stratford CT and Schenectady NY, hosted by Pastor Larry & Connie Wooldridge, and Andy Jacob.
During this three month period, I was also busy recording piano and vocal tracks for our new worship CD, "Our Father Sings!" which was recorded in Santa Clarita CA, and also over-seeing mixing and mastering on this project and for the new piano solo CD project, "Music from the Heart," recorded in Boston MA at the studio of my dear friend, Jay Hovnanian.  July included visits to the St. Paul MN Church of God 7th Day congregation, and the Champlin MN and Rochester MN congregations of Grace Communion, and for five days, serving as worship leader and teacher at the Northern Light summer camp of GCI.  The last weekend in July took me to Florida to serve in the Clearwater and Ocala FL congregations of Grace Communion, and also, for the 4th time, to the wonderful Destiny's House church in Brandon FL with my dear friends, Beth and Dan Gore and family.
 Ministry Contact Information
Our web site is www.stateoftheheart.org  An established 501C3 California non-profit corporation, tax-deductible donations/ orders for worship CDs can be done online, or to State of the Heart Ministries, P.O. Box 56, Sierra Madre, CA  91025-0056 or by calling (626) 836-4686 (9 A.M. and 6 P.M. Pacific Time)
Ross' Ministry Schedule – July-December 2013
| | | | |
| --- | --- | --- | --- |
| July 6-7 | Family | Sept 26-30 | Bridlington/Withernsea U.K. |
| July 13-14 | Minneapolis/St. Paul | Oct 5-6 | Edmonton, Alberta, Canada |
| July 15-20 | Northern Light Camp | Oct 12-13 | OPEN |
| July 21 | Rochester MN | Oct 19-20 | NY, NY/Kenilworth NJ |
| July 27-28 | Clearwater/Tampa/Ocala FL | Oct 26-27 | OPEN |
| Aug 1-4 | Orlando FL | Nov 2-3 | Hamilton/Toronto, Ontario |
| Aug 10-11 | Family | Nov 9-10 | San Jose/San Leandro CA |
| Aug 17-18 | OPEN | Nov 16-17 | Boston MA/Loudon NH |
| Aug 24-25 | Jonesboro AR | Nov 23-24 | Portland OR |
| Aug 31-Sp 1 | OPEN | Nov 30-Dc 1 | Los Angeles CA |
| Sept 7-8 | Hillsdale NJ | Dec 7-8 | Pasadena CA |
| Sept 14-15 | Amarillo TX | Dec 14-15 | OPEN |
| Sept 18-22 | Paignton, U.K. | Dec 21-22 | Family |
| Sept 23-25 | Mallorca, Spain | Dec 28-29 | OPEN |