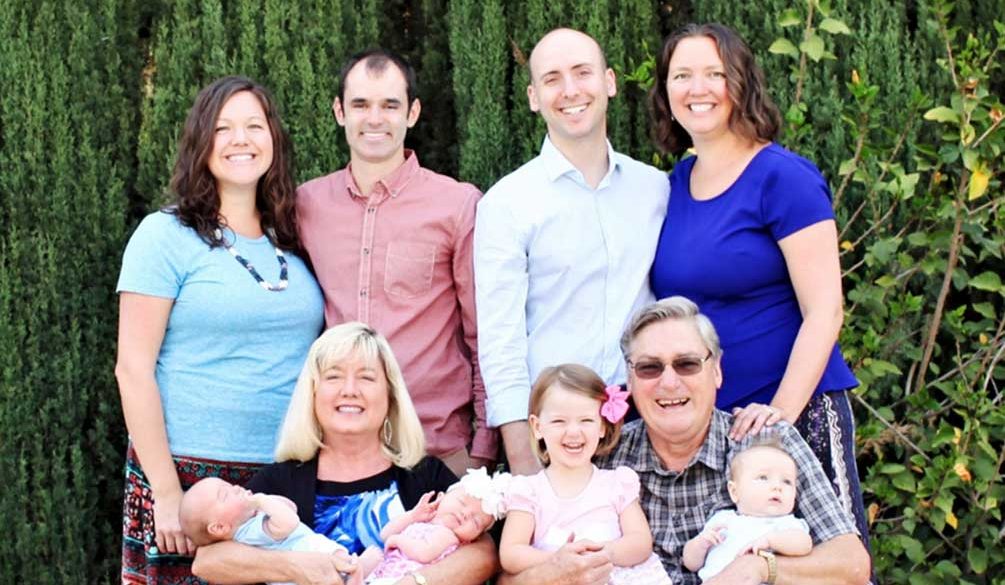 Back row: Lisa and Jonathan, Heidi and Ryan; front row: "Grammy Tammy" with Isaiah & Evelyne, "Grampy Rossy" with Grace and Gabriel                                      
Celebrating 20 years of ministry (1997-2017)
Jesus said, "Let the little children come to me, and do not hinder them, for the kingdom of heaven belongs to such as these."  Matthew 19:14 NIV
Grand-Children Updates                                       
We just received a text from Nairobi, Kenya where Heidi, accompanied by now nine-month old Gabriel Joseph, is doing some important work with her organization, Innovations for Poverty Action.  This well-traveled young man spent two weeks in December with Heidi and Ryan and sister Grace doing some team work in Guatemala for IPA in conjunction with Ryan's work at Yale.  We are looking forward to a week's visit in February from Grace and Gabriel, when Heidi's work brings her to Southern California.  Unfortunately we shall have to wait till July to see Lisa and Jonathan and the grand twins, almost eight months old now!  They are doing well in the very cold winter in Central Asia.  We delight in receiving Face Time calls with all of our kids and grandkids.  Please continue to pray for them all!
November-December 2016 Ministry Visits                                                   
November brought the opportunity to make return Thanksgiving visits to South Bay Christian Church in San Jose CA and to One In Christ Community Church in San Leandro CA.  These annual visits are a much-anticipated delight as I have the chance to spend quality time with my hosts and worship teams in the congregations.  We are always so grateful for the gracious hospitality of Pastor Mel and Barb Dahlgren, Brad and Aletha Mann and Larry and Betty Shamus, and also for Pastor Jun and Yolanda Caranto.  An almost annual visit followed to North Carolina to guest at Grace Christian Fellowship in Wilson NC and at Celebration Christian Fellowship in Cary NC.  The hospitality of Pastor Don Mason, and Pastor Ken and Lana Hygh is always very much appreciated!
December took me back to the east coast with a visit first to serve at Richmond Grace Fellowship in Richmond VA.  I was also honored to give a concert at The Crossings, a brand new retirement community the ribbon-cutting for which took place during my concert!  The next morning I was blessed to join Pastor Bill in leading a Chapel service for about 20 of the residents – this is becoming a regular outreach for the local church.  I was also pleased to give an afternoon concert program at Westminster Canterbury Retirement Community.   The following weekend saw me in Fort Myers FL as a guest of the GCI's Abundant Grace Fellowship, a small church with a very BIG heart!  On the Friday, I gave a concert at Shady Oaks Retirement Home (one hour became two due to so many requests!) and then on Saturday at Brookdale Senior Living.  Sunday brought the opportunity to lead a morning worship service, help serve lunch to several dozen folks, many of whom are homeless, and then give an afternoon Concert.  But this small congregation doesn't only serve lunch on Sundays – they do it every Wednesday noon also!  Kudos to Pastors Hugh Steiginga, Sarah Faulkner and Bonnie McQueary, as well as to my wonderful hosts Dwight and Brenda Dean, and to Richmond pastor Bill and Davina Winn, and to hosts Chip and Gilda Brockmeier.                                                 
Ministry Contact Information
Our web site is www.stateoftheheart.org An established 501C3 California non-profit corporation, tax-deductible donations and orders for worship CDs can be done online, or to State of the Heart Ministries, P.O. Box 56, Sierra Madre, CA  91025 or call 626- 836-4686
Ross' Ministry Schedule – February-June 2017
| | | | |
| --- | --- | --- | --- |
| Jan 21-23 | Dallas/Big Sandy TX | Apr 1-2 | Altadena CA |
| Jan 28-29 | Family | Apr 8-9 | Melbourne/Orlando FL |
| Feb 4-5 | London, United Kingdom | Apr 15-16 | Chillicothe/Columbus OH |
| Feb 11-12 | Pasadena CA | Apr 22-23 | Amarillo TX |
| Feb 18-19 | Family (Grandkids visit!) | Apr 29-30 | Family |
| Feb 25-26 | OPEN | May 6-7 | Family |
| Mar 4-5 | West Palm Beach/Ocala FL | May 13-14 | OPEN |
| Mar 11-12 | Las Vegas NV | May 20-21 | Palm Springs CA |
| Mar 18-19 | Los Angeles/Van Nuys CA | 5/27-28,6/3-4 | OPEN |
| Mar 25-26 | Miami FL | June 10-11 | Williamstown MA |