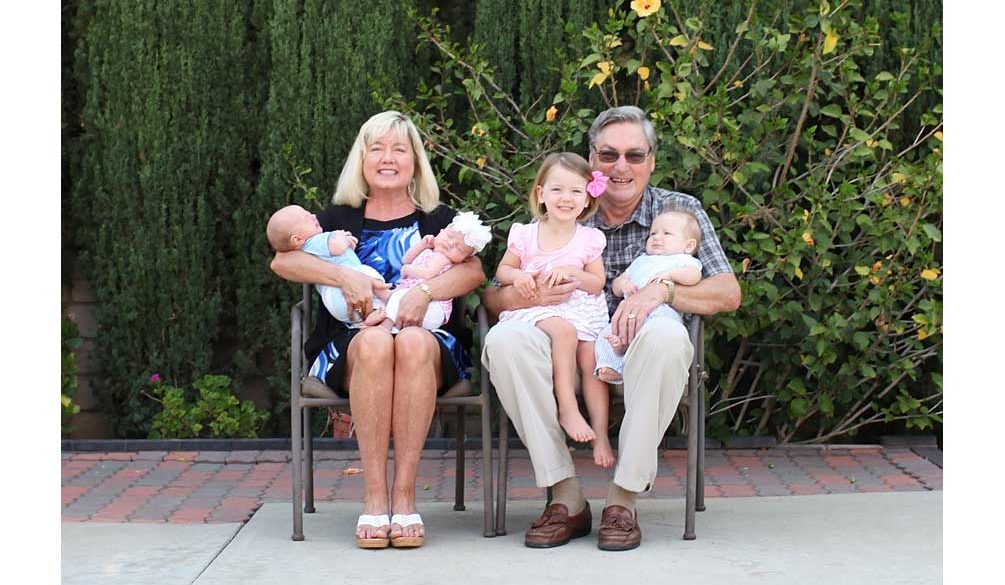 Grammy Tammy with Isaiah and Evelyne, Granpy Ross with Grace and Gabriel
Grand-Children Updates                                                
In mid-September, Tammy and I were delighted to participate in the dedication of Gabriel Joseph McAnnally-Linz, along with Heidi and Ryan and proud sister 3 year old Grace at the Elm City Vineyard Church in New Haven CT.  I was also honored to make a return visit to Grace's Neighborhood Music School and give a concert for her lively pre-school class of three and four year olds.  The weekend visit also included serving at the Grace Communion congregations in Stratford and Meriden CT.  Our grand twins, Isaiah and Evelyne are growing fast and we miss them so much – they have been back in Central Asia with Lisa and Jonathan for two months now.  It was an absolute joy for Tammy and me to be able to host Lisa and Jonathan in our home since late April and the twins for their first three months.  Your ongoing prayers for all of our family are very much appreciated!
August-October 2016 Ministry Visits                                                                                                                                                                                                                                              
August included a return visit to the Bellflower CA GCI congregation and a first time visit to Grace Communion Fellowship in Los Angeles, as well as a return visit to the Seventh-Day Baptist Church in Mitchellville MD and to Living Hope Christian Fellowship in Vienna VA, including a program at a nearby nursing home.  Many thanks to my hosts, Pastors Larry Dietrich, Angie Tabin, David Taylor and Brian Carlisle, and to my dear friends Sylvie and Torney Van Acker.  In September I was privileged to serve once again in West Texas at the Amarillo Grace Communion, including a little music for their monthly outreach at the Ronald McDonald House, and the same weekend at Calvary Baptist Church in Tulia, and at Community Fellowship Church in Clarendon.  Jonesboro AR was my destination for a busy weekend serving at First Christian Church and Community of Christ, as well as giving programs at three retirement communities.  My wonderful hosts were Pastors Eddy Helms, Larry Capranica, Sammy and Julia O'Dell, Jeff and Trish Chandler, and my wonderful friend Bill Edwards!
In October, I was welcomed back to Manhattan NY Community Church and New Life in Christ in Queens NY, both congregations pastored by John Newsom.  Another weekend took me to serve as guest worship leader/speaker at the Milwaukee WI Grace Communion congregation and Abundant Grace Fellowship in Rockford IL as well as giving a Concert of Praise at New Life Church in Beloit WI.  The highlight of this visit, though, had to be the privilege of helping prepare meals for distribution at the Rockford Rescue Mission for over 200 beautiful children of God and lead a Sunday evening worship service for them.  I am so grateful for my hosts Pastor Tracy and Cherie Porter, Pastor Luci and Carl Cramer, and Kathleen and Mike Hembree.                                                                                                                                                               
Ministry Contact Information
Our web site is www.stateoftheheart.org An established 501C3 California non-profit corporation, tax-deductible donations and orders for worship CDs can be done online, or to State of the Heart Ministries, P.O. Box 56, Sierra Madre, CA  91025 or call 626- 836-4686
Ross' Ministry Schedule – November 2016-March 2017
| | | | |
| --- | --- | --- | --- |
| Nov 12-13 | San Jose/San Leandro CA | Jan 14-15 | Bellflower CA |
| Nov 19-20 | Raleigh-Durham NC | Jan 21-22 | Dallas/Mt.Pleas/Big SandyTX |
| Nov 26-27 | Family | Jan 28-29 | OPEN |
| Dec 3-4 | Pasadena CA | Feb 4-5 | Charlotte NC (tent.) |
| Dec 10-11 | Richmond VA | Feb 11-12 | OPEN |
| Dec 17-18 | Fort Myers FL | Feb 18-19 | OPEN |
| Dec 24-25 | Family | Feb 25-26 | Pasadena CA |
| Dec 31-Jan 1 | So. Cal. | Mar 4-5 | OPEN |
| Jan 7-8 | OPEN | Mar 11-12 | OPEN |