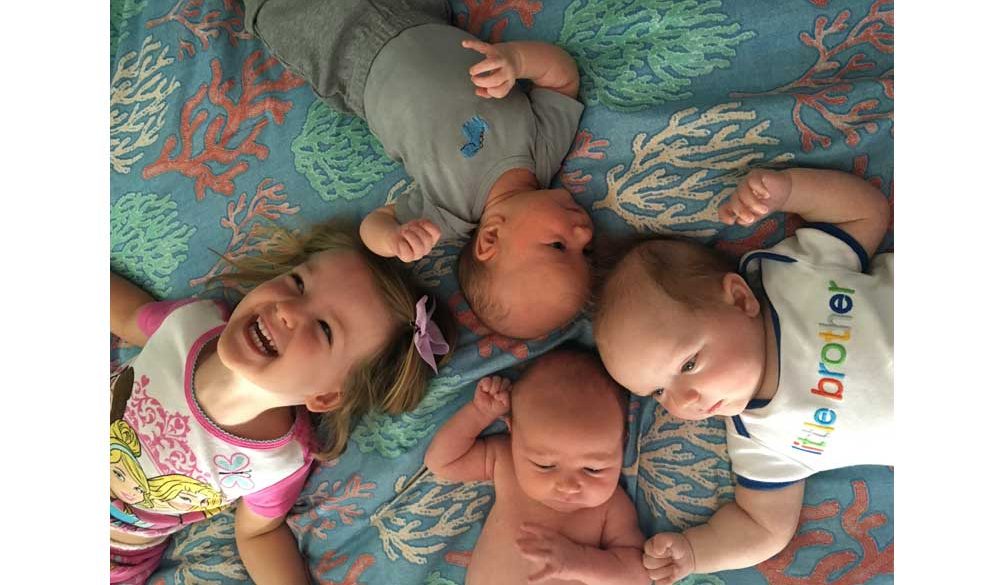 "Blessed is the man whose quiver is full of them…" Psalm 127:5
Our Home Is Alive With "The Sound of Music!"                                                  
On June 11, our daughter Lisa and her husband Jonathan welcomed fraternal twins, Evelyne Kathryn and Isaiah Frederick, to their family.  Both weighed in at almost 7 pounds and we have thoroughly enjoyed getting to know them these past 9 weeks!  It is a very exciting and special time in the Jutsum household!  For three weeks, our growing family also welcomed daughter Heidi and her husband Ryan, and their 3 year old Grace Victoria and 3 month old Gabriel Joseph.  Grace was celebrating her 3rd birthday in the bottom right picture.  Needless to say, there was a lot of time for cuddles and music, and a brand new song I penned for the grand twins – "Two Bundles of Joy" – here's some of the lyrics:
          Evelyne Kathryn, Isaiah Frederick – given such beautiful names
Lisa and Jonathan, new mother and father – all ready to nurture and train
Chorus:
God gave you (us) two bundles of joy – a precious girl and a darling boy
Gifts from heaven and blessings to call your own
To truly love, cherish and raise – these treasured children God gave
And welcome into your growing family and home
Some people say that it takes a village – family all part of your team
Grandmas and grandpas, uncles and aunts – so proud you're fulfilling your dream
(Chorus)
Your prayers for Lisa and Jon and the twins would be most appreciated as they soon prepare to return to Central Asia, where Jon will continue serving as a humanitarian pilot.
May-July 2016 Ministry Visits                                                                                 
In May, I enjoyed serving the Grace Communion congregation in Vancouver, Canada, as well as providing worship music for a Silent Retreat here in Southern California.  We also helped Lisa and Jonathan prepare for the arrival of their twins.  In June we mourned the loss of two dear friends who were also wonderful musicians – Randy Duke, aged 58 and Al Killebrew, aged 62.  Both Randy and Al had played for our wedding back in 1978 and we worked together over the years on many live performances and video/recording projects.  They will be sadly missed.
In Williamstown, Massachusetts in June, I was honored to play for the Williams College Inter-Faith Service of Remembrance, providing prelude music and accompanying the choir and congregational singing.  Highlights in July included a return visit to Grace Communion in Bellflower CA and a first time visit to Grace Communion Fellowship in Los Angeles.
Ministry Contact Information
Our web site is www.stateoftheheart.org  An established 501C3 California non-profit corporation, tax-deductible donations and orders for worship CDs can be done online, or to State of the Heart Ministries, P.O. Box 56, Sierra Madre, CA  91025 or call 626- 836-4686 (9 A.M.- 6 P.M. PDT)
Ross' Ministry Schedule – August – December 2016
| | | | |
| --- | --- | --- | --- |
| Aug 20-21 | Mitchellville MD/ViennaVA | Oct 22-23 | OPEN |
| Aug 27-28 | Pasadena CA | Oct 29-30 | Chicago/Rockford IL |
| Sept 3-4 | Family | Nov 5-6 | Edmonton/Calgary, Canada |
| Sept 10-11 | Amarillo/Tulia/Clarend. TX | Nov 12-13 | San Jose/San Leandro CA |
| Sept 17-18 | Stratford/Cromwell CT | Nov 19-20 | Raleigh NC |
| Sept 24-25 | Jonesboro AR | Nov 26-27 | OPEN |
| Oct 1-2 | Riverside/Houston TX | Dec 3-4 | Pasadena CA |
| Oct 8-9 | OPEN | Dec 10-11 | Richmond VA |
| Oct 15-16 | Pasadena CA | Dec 17-19 | OPEN |