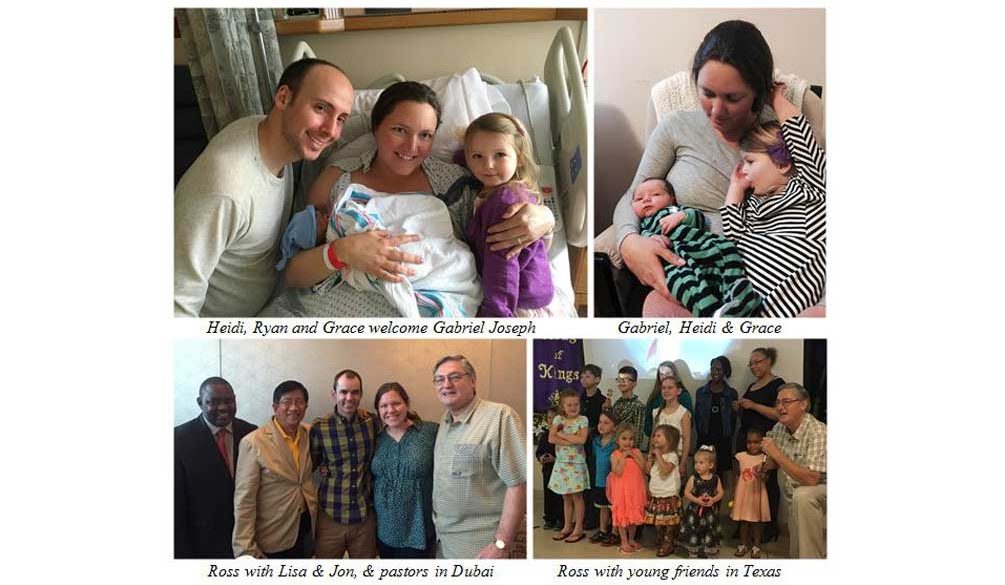 "Blessed is the man whose quiver is full of them…" Psalm 127:5
Our First Grand-Son Arrives and "Twin Watch Begins!"                                                  
On Thursday, April 28, our older daughter Heidi, husband Ryan and grand-daughter Grace welcomed Gabriel Joseph into the world and to their precious family.  Gabriel weighed in at 8 pounds, and was 21 inches long and he has long fingers!!!  Of course, Tammy and I are thrilled to welcome our second grand-child and look forward to meeting him very soon.  Aunt Lisa and Uncle Jonathan are with us at home here in Southern California awaiting the arrival of their fraternal twins sometime in the next few weeks.  They will stay with us through the end of July, when they plan to return to their work in Central Asia.  Lisa suffered a pulled muscle a few days ago trying to negotiate a floor made slippery from the rain.  Your prayers for Lisa and Jonathan and their babies would be most appreciated as they prepare to welcome their little girl and boy (grandchildren #3 and #4!!)   It is a very exciting and special time in the Jutsum household!
February 2016 Ministry Visits                                                      
Tammy and I were truly blessed by the opportunity to make a return visit to New Hope Christian Fellowship in Eagle Rock CA the first weekend in February.  It is such a pleasant change to be able to drive 20 minutes!  Pastor Glen and Connie Weber (friends for almost 45 years!) were wonderful hosts.  Then it was time to make the long trip to Dubai in the United Arab Emirates, where I spent a few days with our daughter and son-in-law, Lisa and Jonathan, and shared a Friday evening of praise with the delightful brethren of the Grace Communion congregation there – truly an international group with members hailing from Africa, the Philippines and even Scotland and the U.S.  Pastor Eugene Guzon from the Philippines and Pastor Jean-Baptiste from Burundi made us feel very welcome.  A stopover in Amman, Jordan gave me an opportunity to see that amazing city and drive to the Dead Sea on the way to the United Kingdom, guesting in the Grace Communion congregations in Watford and North London, hosted by more dear friends from four plus decades, David and Nancy Silcox!
March-April 2016 Ministry Visits                                                                                                      
My annual trip to the Orlando FL area enabled serving once again at Well Springs Church in Satellite Beach, the American Retirement Community in Rockledge, the Grace Communion congregations in Melbourne and Winter Park, and for a worship service and evening concert at Compass Community Church in Apopka.  My wonderful hosts were Pastor Steve and Carol Schantz, Pastor Howard and Becky Salter, and Lesz and Riccinni Banham.  Easter weekend took me to serve in New England – first with a concert at Loudon Congregational Church and then at Sonlight Christian Fellowship in Concord, where my hosts were Pastor Thom and Marlene Friedrich, Pastor Mel Cormier, and long-time dear friends Tony and Faye Limanni.  On an East Texas trip in April I led worship at the Tyler TX Church of God 7th Day, at Grace Christian Fellowship in Longview TX (see the pic with the young people above!) and at Good News Christian Fellowship in Nacogdoches TX, where I was also able to share at a local Nursing Home, hosted by Pastor Lee and Sue Berger, Pastor Walter and Carole Deptula, and Juan Carlos Mendoza and Jeronimo Avila.  The last weekend in April took me back to Vancouver, Canada, where I led a combined worship service for New Life Christian Fellowship of Surrey and Harvest Christian Fellowship of Abbotsford.  My fantastic hosts were long-time friends Pastor Craig & Debbie Minke, Regional Director Gary & Wendy Moore, and Pastor Jim & Karen Miller.
Ministry Contact Information
Our web site is www.stateoftheheart.org  An established 501C3 California non-profit corporation, tax-deductible donations and orders for worship CDs can be done online, or to State of the Heart Ministries, P.O. Box 56, Sierra Madre, CA  91025 or call 626- 836-4686 (9 A.M.- 6 P.M. PDT)
Ross' Ministry Schedule – May-July 2016
| | | | |
| --- | --- | --- | --- |
| Apr 23-24 | Tyler, Longview, Nach. TX | June 25-26 | Manhattan/Queens NY |
| Apr 30-5/1 | Surrey/Abbotsford, B.C. | July 2-3 | Toronto, Canada (tent.) |
| May 7-8 | Mother's Day, So. Cal. | July 9-10 | OPEN |
| May 14-15 | Pasadena CA | July 16-17 | Family |
| May 21-22 | OPEN | July 23-24 | So. Cal. |
| May 28-29 | Family | July 30-31 | OPEN |
| June 4-5 | OPEN | Aug 6-7 | Seattle WA (tent.) |
| June 11-12 | Williamstown MA | Aug 13-14 | So. Cal. |
| June 18-19 | Father's Day, So. Cal. | Aug 20-21 | Jonesboro AR (tent.) |