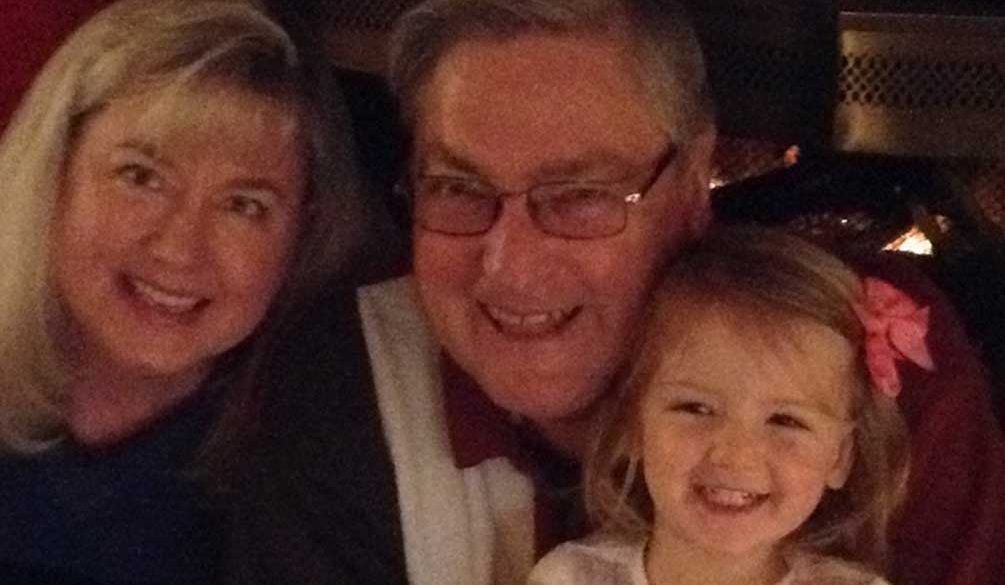 "Blessed is the man whose quiver is full of them…" Psalm 127:5
Grandma Tammy & Grandpa Ross enjoy time with Grace Victoria
Exciting News in the Jutsum Family!                                                     
2 and ½ year-old first grandbaby Grace will be welcoming a baby brother in April.  Heidi, Ryan and Grace joined us for two weeks over the holidays and we enjoyed many wonderful times together, including lots of singing and dancing!  In other exciting news, we learned that younger daughter Lisa and her husband Jonathan, currently serving in Central Asia, are also expecting and they will welcome TWINS in May!!!  Needless to say, Lisa and Jon will come home to California for this blessed event!  Tammy and I are looking forward to welcoming the three new additions to our growing family.  We ask for your prayers for good health for mothers and babies, and for God's continued protection and covering in Central Asia and Connecticut.
November-December 2015 Ministry Visits                                                      
As mentioned in the last newsletter, one of the most memorable highlights of 2015 and, in fact of our ministry of almost 19 years, was an early November visit to a maximum security prison in Wisconsin to lead two worship services for 400 prisoners and precious children of God.  Then followed return visits to the South Bay Christian Church in San Jose CA and to One in Christ Community Church in San Leandro CA for their annual Thanksgiving services.  The hospitality of Pastor Mel and Barb Dahlgren, Brad and Aletha Mann, Larry and Betty Shamus and Pastor Jun and Yolanda Caranto were appreciated so much once again.  The weekend before Thanksgiving took me to San Antonio TX where I served at the Ceralvo Church of God 7th Day, and to Austin TX where I led a worship service for the Grace Communion congregation there.  Again, I so much appreciated the warm welcome and wonderful hospitality of Pastor Abel and Manuel Salazar and Pastor Don Amundson.  Tammy and I enjoyed spending a few days with her sister Linda and Richard, along with Annie, Nick and Lukas up in Vancouver WA for Thanksgiving.  Though it was a little chilly, the weather was spectacular!  It was good to slow down a little bit, enjoy special family time, and count our many blessings!
December brought the opportunity to serve in Southern California, close to home.  I led a worship service for New Covenant Fellowship in Glendora, and accompanied the New Hope Christian Fellowship Choir for a program at the Fair Oaks Retirement Community in Pasadena, and at New Hope's worship service in Eagle Rock.  I also provided music for the annual Donor's Dinner of The King's Seminary where Pat Boone was honored by Dr. Jack Hayford, the Chancellor of King's.  As well, I had the pleasure of accompanying my good friend Rob Floe in his wonderful Baritone Recital in Pasadena. The weekend after Christmas, I was invited to return to Cornerstone Church in Long Beach, where my long-time friend Terry Miller serves as Associate Pastor/Worship Pastor.  Terry wanted to visit family in Wisconsin, and so I was honored to lead worship at all three worship services, joined by 3 fantastic musicians on bass, drums and saxophone.  It was a delightful ending to a VERY busy year that took me to serve in venues in 28 U.S. states, Ontario and Alberta, Canada, and the United Kingdom.
January 2016 Ministry Visits                                                                                                                                                                                                                                                                                         January saw me leading worship services for Grace Communion in Bellflower CA, then back to Texas to lead at three Grace Communion congregations in the DFW area, as well as a COG7 congregation in Grand Prairie and Granbury Baptist, and finally to Miami FL to serve in two GCI congregations and also at the South Miami Church of God 7th Day.
Ministry Contact Information
Our web site is www.stateoftheheart.org  An established 501C3 California non-profit corporation, tax-deductible donations and orders for worship CDs can be done online, or to State of the Heart Ministries, P.O. Box 56, Sierra Madre, CA  91025 or call 626- 836-4686 (9 A.M.- 6 P.M. PDT)
Ross' Ministry Schedule – January-April 2016
| | | | |
| --- | --- | --- | --- |
| Jan 2-3 | Sierra Madre CA | Mar 3-6 | Melbourne/Orlando FL |
| Jan 9-10 | Family | Mar 12-13 | Family |
| Jan 16-17 | Bellflower/Sierra Madre CA | Mar 19-20 | Chicago (tent) |
| Jan 23-24 | Dallas/Granbury TX | Mar 26-27 | Loudon/Concord NH |
| Jan 30-31 | Brentwood CA | Apr2-3 | Washington D.C. (tent.) |
| Feb 6-7 | Eagle Rock CA | Apr 9-10 | Family |
| Feb 13-14 | Family | Apr 16-17 | OPEN |
| Feb 20-21 | United Kingdom | Apr 23-24 | So. Cal. |
| Feb 27-28 | United Kingdom | Apr 30-5/1 | OPEN |