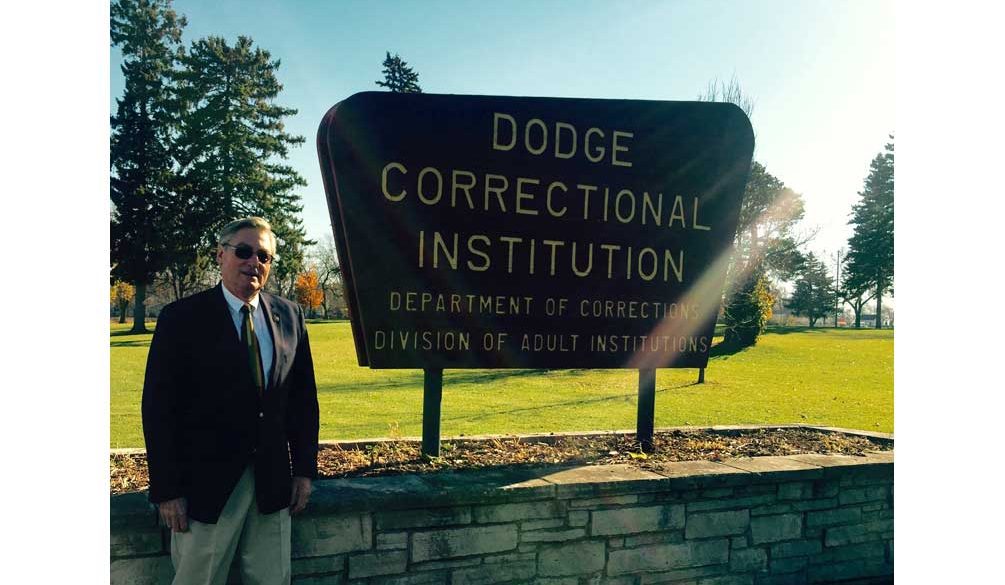 "… Paul and Silas were praising God with singing, and the prisoners listened to them."
Acts 16:25
Ross visits Wisconsin Maximum Security Prison, leads two worship services
On November 8th, I was picked up from my Milwaukee Airport motel at 5 a.m. by Pastor Raymond Olson, a dear friend and pastor of Harbor Missionary Church (a Grace Communion congregation in Juneau WI.)  Ray also serves full-time as a Prison Chaplain at Dodge Correctional Institution in nearby Waupun WI.  After driving some 55 miles, we arrived at the facility, went through multiple levels of security and set up in the chapel for the 7:30 and 9:00 a.m. worship services.  There are 1,600 inmates at this prison, with the vast majority serving life sentences.  Over 300 attended these two worship services.  It was one of the most inspiring, incredible and humbling experiences in my 18 plus years of "State of the Heart Ministries."  Just to see the smiles on their faces, as these dear men joined me in praising God with How Great Thou Art and Amazing Grace, was a joy and delight.  Then to hear them singing along with my worship songs – "we belong to our Father in heaven, and to Jesus, our Strength and our Song" and "You turn my tears into smiles, my sorrow to laughter – You alone can heal my heart and make me whole!" and "our Father sings – 'you're the child I've always wanted, my beloved son for whom I've always longed'" was so moving and encouraging.  I met and talked with many of these dear brothers and was invited back "any time" – even by several of the guards!  What an incredible ministry God has given Pastor Ray and his wonderful congregation(s)!
Family Update from Central Asia and Connecticut                                                      
On the last day of August we said farewell to Lisa and Jonathan as they began their next daunting adventure! Your ongoing prayers for Lisa and Jonathan in Central Asia are so appreciated as they continue to familiarize themselves with the local language and security issues.  They are planning to visit Jon's brother, also a pilot, in Bangladesh, in December.  Meanwhile, Heidi and Ryan are keeping busy in New Haven CT – Ryan wrapping up his Doctorate in Theology at Yale, and Heidi continuing her important work with Innovations for Poverty Action.  Of course, we thoroughly enjoy our regular FaceTime with them and beautiful grand-daughter Grace, aged 2 years and 4 months!
August-October 2015 Ministry Visits                                                                                                                                                                                                                                                                                 
I was honored to attend the August wedding of Mr. and Mrs. Jonathan Hovnanian in Fryeburg, Maine – Jonathan's parents, Jay and Joyce, are long-time friends. This trip gave me the opportunity to serve at Grace Communion congregation in Windham, ME.  I especially appreciated the wonderful hospitality of Pastor Bob and Carol Thurlow, as well as Jay and Joyce.  And it was great to re-connect with our dear friend and wonderful ministry partner, Richard Russell, and his family!  The last weekend in August was my 7th yearly visit to Jonesboro AR, where I served the Seventh-Day Adventist church, First Christian Church and Living Grace Fellowship, and gave concerts at three Christian retirement communities – St. Bernard's Village, Morningside and, for the first time, St. Bernard's Villa.  My host and "chauffeur" for the weekend was my dear friend and former student, Pastor Jeff Chandler, who charmed everyone with his incredible rendition of "How Great Thou Art!" 
September and October were incredibly busy with another visit to West Texas serving in Amarillo's Grace Communion, Tulia's Calvary Baptist and Clarendon's Community Fellowship Church, hosted once again by dear friends Pastor Sammy and Julia O'Dell, and Pastors Eddy Helms and Larry Capranica.  Then I was a guest at two Hispanic Church of God 7th Day congregations in the DFW area – Nueva Esperanza Mission and Dallas Central (Melbourne), followed by a worship service and concert at the wonderful Rainbow Baptist Church south of Granbury.  Then followed return visits to Grace Communion churches in Stratford and Cromwell CT, Glasgow Scotland, Stone Mountain GA, Edmonton Canada, Beaumont TX, Wilson and Cary NC, and Church of God 7th Day congregations in Croydon, just outside London UK, and in Houston TX, and the Metro Atlanta GA 7th Day Baptist Church, not to forget the Journey Church and Caleb Manor in Edmonton!  Many, many thanks to all my pastor friends and hosts!  Much more on these to come!                                                                                                                                                    
Ministry Contact Information
Our web site is www.stateoftheheart.org  An established 501C3 California non-profit corporation, tax-deductible donations and orders for worship CDs can be done online, or to State of the Heart Ministries, P.O. Box 56, Sierra Madre, CA  91025 or call 626- 836-4686 (9 A.M. and 6 P.M. Pacific Time )
Ross' Ministry Schedule – November 2015-February 2016
| | | | |
| --- | --- | --- | --- |
| Nov 7-8 | Waupun/Juneau WI | Jan 9-10 | OPEN |
| Nov 14-15 | San Jose/San Leandro CA | Jan 16-17 | Bellflower CA |
| Nov 21-22 | Austin/San Antonio TX | Jan 23-24 | DFW/Granbury, TX |
| Nov 28-29 | Vancouver WA | Jan 30-31 | Pompano Beach/Miami FL |
| Dec 5-6 | Glendora/Pasadena CA | Feb 6-7 | Eagle Rock CA |
| Dec 12-13 | Pasadena/Eagle Rock CA | Feb 13-14 | Family |
| Dec 19-20 | Sierra Madre CA | Feb 20-21 | United Kingdom |
| Dec 26-27 | Cornerstone, Long Beach CA | Feb 27-28 | United Kingdom |
| Jan 2-3 | So. Cal. | Mar 3-6 | Melbourne/Orlando FL |